Fernhurst Books Draycote Dash - Preview of Event #1 of our Winter Series
GJW Direct SailJuice Winter Series starts with Fernhurst Books Draycote Dash
Prizes for early entries to the first event in the UK's winter traveller series
14 November 2013
Last year at Draycote, Pete Nelson's RS600 prevailed over the Merlin Rocket sailed by Dave Hayes and Jonny Ratcliffe, with Andy Couch's Phantom singlehander in 3rd overall. Who will win this time? With the Great Lakes group of handicapping experts having further refined the handicap numbers used since last year, we're seeing an ever wider range of different boat classes finishing in the top 10.
Chris Gandy is the organiser of the Fernhurst Books Draycote Dash. "On Saturday we plan to run at least four average-lap handicap races, with first race not before 11am," says Chris, "and then on Sunday it's a 120-minute pursuit race."
PRIZES FOR EARLY ENTRY
With SailRacer running the online entry process at www.sailjuiceseries.com, there are prizes up for grabs for those who enter at least two events in the Series by 6pm on Thursday 21 November. Those who enter at least two events by the deadline go into a draw to win one of 10 subscriptions to the 'how to race faster' website, www.sailjuice.com, and winter hats and gloves provided by Gul. Enter early, enter online here: www.sailjuiceseries.com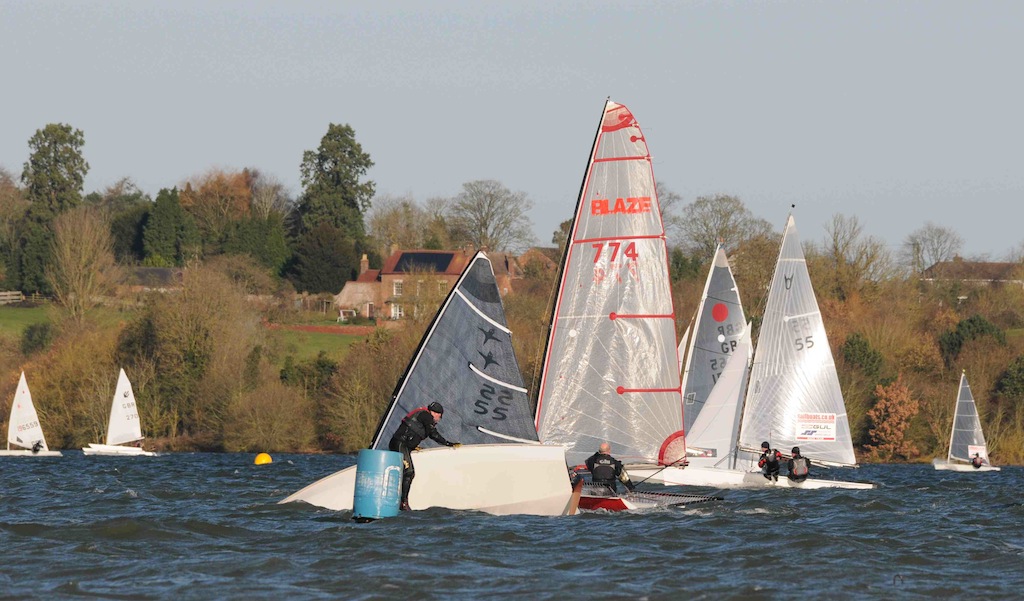 FOUR OUT OF EIGHT
Two brand new events - the Datchet Flyer and the Oxford Blue - feature in this year's line-up, along with the six that made up last year's Series. This season you must count your best four results from these eight events. Competing at more events will give you more shots at getting a set of four good scores to put on the board.
THE EVENTS
The following regattas constitute the GJW Direct SailJuice Winter Series 2013/2014:
Fernhurst Books Draycote Dash, Draycote Water Sailing Club

Saturday 23th & Sunday 24th November 2013
Datchet Flyer, Datchet Water Sailing Club

Saturday 14th & Sunday 15th December 2013
Brass Monkey, Yorkshire Dales Sailing Club

Friday 27th December 2013
Grafham Grand Prix, Grafham Water Sailing Club

Sunday 29th December 2013
Oxford Blue, Oxford Sailing Club

Saturday 4th January 2014
Bloody Mary, Queen Mary Sailing Club

Saturday 11th January 2014
Steve Nicholson Trophy, Northampton Sailing Club

Saturday 25th January 2014
John Merricks Tiger Trophy, Rutland Sailing Club

Saturday 1st & Sunday 2nd February 2014
Find out more at:
www.sailjuiceseries.com

AMALGAMATED ENTRY
SailRacer has done the number crunching to calculate the points scores for the past few years of the Series, and now for the second year Simon Lovesey and Brenda Hoult are running the online entry process for all eight events. SailRacer's online entry system means you can enter anything from one through to all eight events and make a single payment, saving you time and guaranteeing your place in advance. A number of the events were oversubscribed last year, and we're expecting the same again this year. Enter early!
PRIZES FOR COMPETITORS, CLASSES & SPECTATORS
Thanks to generous support from Series sponsors, once again we have some great prizes for competitors, but also for spectators. More details to follow in the coming weeks...
In addition to title sponsor GJW Direct Insurance (www.gjwdirect.co.uk/dinghy), the UK's largest direct boat insurer, our silver-level sponsors are:
Gul - Experts in Performance Apparel http://www.gul.com/
Trident - The Dinghy & Yacht Shop on the Web http://www.tridentuk.com/
Overboard - The Leaders in Waterproof Bags & Cases http://www.over-board.co.uk/
and we also have prizes from one of the Series' longest-standing supporters: Holt, renowned for their dinghy and catamaran marine hardware. http://holt.eu
ENTER NOW!
Enter the Series here: http://www.SailJuiceSeries.com
The website will tell you more about the events in the Series, more about the Great Lakes handicapping process, and we'll keep you updated on everything else you need to know.