Alex Agosta caught up with Robert Stanjek, 2014 Star World Champion and 10th at the Star Sailors League (SSL) Finals 2014 in Bermuda. Stanjek was competing in Bermuda with Claus Olesen from Denmark. Interesting to note Stanjek's observations on how much physicality the Finn sailors like Giles Scott brought to the downwind sailing. Iain Percy already stepped up the physicality of Star racing in the early 2000s, along with other dinghy sailors like Robert Scheidt. But a 7th place at his first Star event suggests Giles Scott could be equally potent in the Star as he is proving to be in the Finn in his build-up to Rio 2016...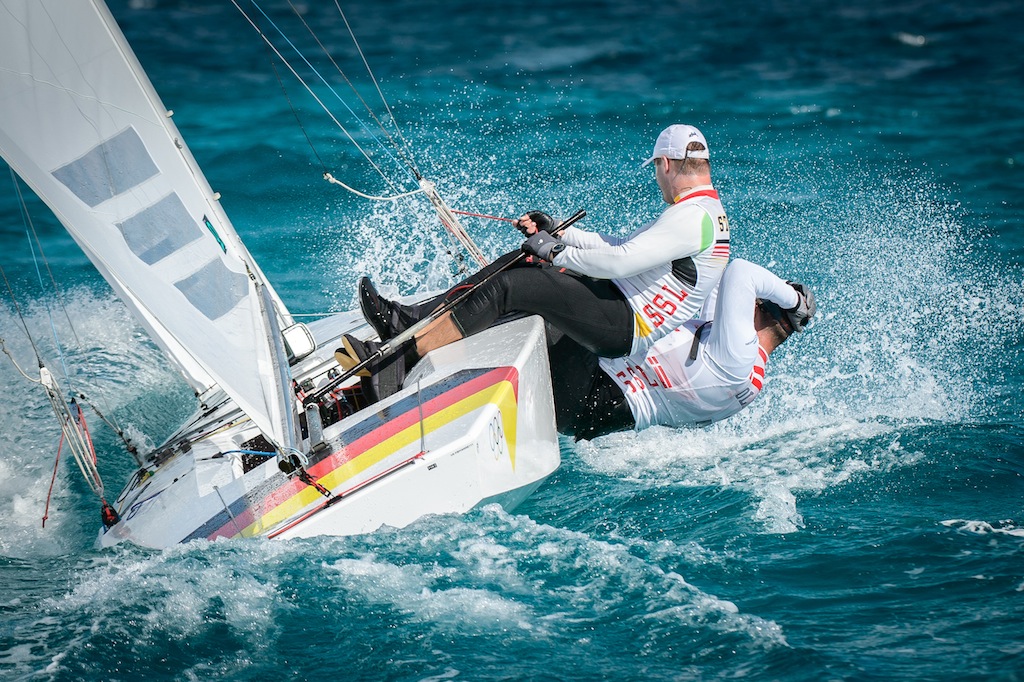 © SSL/ Marc Rouiller: Stanjek racing in Bermuda



Robert Stanjek, you were one of the first to say that this was one of the best fleet ever. Do you still think so?
Yes, I think so. If you look at the sailors worldwide under 40, you would find probably 80% of them here. And that's impressive. We only missed out on two or three big names and the rest were here, so that's incredible. There's no shame in getting tense here.

So was it a surprise to see three Finn sailors in the top 10 on Saturday night?
I think nowadays the Finn sailors have good skills to bring here. For the last eight years, they've been allowed to pump in the Finn so they are very physical. They practice their technique, without getting judged on Rule 42. As Olympic Star sailors, we never practiced these techniques because it was not allowed before and so they have a good advantage. They have a very, very good downwind speed. Also they are still competing maybe twice every month at a very high level. They are well-trained, they are physically absolutely at the top of their game, they are smart sailors. All of them had good Star crews too. The old Olympic Star crews probably haven't been racing that much over the last two years - it equalises out pretty much so they have a decent chance to even win this regatta. Did you feel any pressure from being the defending World Champion?

Did you feel you were targeted like in a match race because of that?
No, I didn't find that. There was no pressure. I really enjoyed this event from the first day on. Of course, we were not happy with the beginning of our series here but overall, I won the World Championship this year and, to me, that means more than winning the Star Sailors League. But unfortunately our goal was to reach the grand finale and be in the top four. We missed out on that. We qualified for the last day of racing but there's always a different champion, huh?

Do you miss Kleen?
It's always an advantage if you know your crew for a long time. The Star is not the skipper or the crew. The Star is the team. We sailed quite a lot and we got some very good results and now I was here with Klaus. He is a super crew but you see you need some time to get together, to team up, to synchronise your movements and communication and so on. In this tight, quick racing, if you miss out a few percentage on that, you see it extremely quickly.

And that was probably your biggest problem of the week?
I don't want to make excuses but I wasn't too happy with the mast. The mast was too soft so in the medium breeze, we were struggling with speed. When you can't pop out of the first line, you have to duck the first boat and the second boat. Then, when you are in the middle of the fleet, it's so hard to come back. Whenever we had more than 20 knots we did well. We won a couple of upwinds but we were actually missing a little bit of speed.

So did you learn anything useful for the future? What is your best memory of the week?
I think I got a big lesson this year. I haven't raced small boats or small keel boats that much on the tiller, helming the boat. And you can feel that quick thinking, quick decision-making, precise manoeuvring…..you lose a little bit on that performance. I think I probably did 200 days of sailing this year but you have to spend some days on the small boats to keep your mind quick and steering precise and so on. I missed this a little bit but I could see during the event that we came back better and better and better.