Well here it is....! It has taken a while for everything to sink in and really think about what has happened over the last month or so. There is so much to say and so many people to thank but I just wanted to write a semi-quick!! summary of the Rio 2016 Olympic Games!
It was one of the most special but difficult events of my life for a number of reasons. There was of course a lot of pressure to win gold, mainly that we put on ourselves after the disappointment of London 2012, but for me, there was the added pressure I felt of being part of such a special team. Saskia Clark and Joe Glanfield (our coach). It was honestly the most incredible team to be a part of and I can't thank either of them enough for being so amazing. Through thick and thin of the last 5 years! I absolutely wanted to deliver my best performance in Rio, to achieve what I knew we could and not feel like I had let either of them down. This was it. Our last shot together....
I was completely unprepared for how different an experience Rio would feel to London. London felt like the official Games, where you absolutely knew it was the Olympics and everything was where it should be. Rio however, felt like a very relaxed Games where you really had to focus on the fact it was the Olympics and this was it!!! It might not sound much, but for me, it made a big difference and Rio not feeling like such a big occasion was something I needed to come to terms with, and fast!
A virus the week before racing started didn't particularly help in preparations with 4 days off the water before racing began not feeling like the ideal preparation for the Olympics...however this was where our experience came in. We've been there before many times over the last 4 years with a few injuries along the way and having to step back into the boat and perform straight away was something we absolutely knew we could do.
The first few days of the Games was honestly not that enjoyable! I woke up, had to get some food in me, still feeling fairly exhausted and with now just a cold. We battled through, Sas was amazing and after some incredible come backs on day 1 (we described that day as "saving the furniture") As the old saying goes, you can't win it on day 1, but you certainly can lose it.
Day 2 loomed and 20-25kts and some of the biggest waves we have ever sailed in! I genuinely didn't think I was going to have the energy to get through the day! Still, somewhere within you find it, perhaps its the adrenaline or just the absolute desire of 4 years work not wanting to be thrown down the drain because of a bit of a cold! We had probably one of the best days racing ever! We found a new gear upwind, it was an incredible feeling just being a little bit faster than almost everyone around us! What a time to do it!!! A 1st in race 1 and then a moments lapse in judgement causing a capsize in race 2 when we we're leading just a few hundred meters from the finish....well you might think the toys would come out the pram at this point. But no, that's not a team that is completely focussed on the job at hand. And that's not us. We did a very fast recovery and managed to come through to still take 6th. Phew!!!!!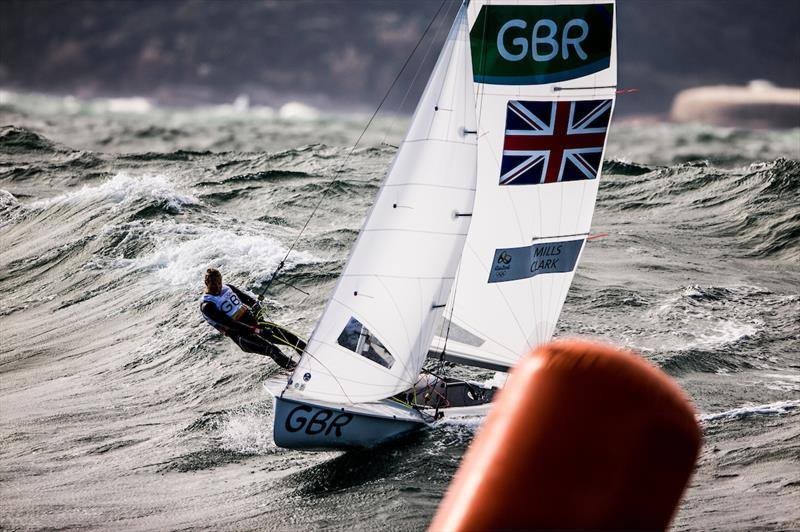 Finally starting to feel like my normal self (still half asleep in the mornings obviously!) day 3 was a tough one, just 1 race late in the day. You know this is the time to smash it. A 1 race day you have to be switched on and make sure you are completely ready to nail the first decision. We were, doing a port flyer at the Olympic Games - epic!!! We lead the race from start to finish. An amazing feeling.
Day 4 after a rest day where we literally just slept and ate. Supposedly a 3 race day, we raced the first race in very light tricky conditions - very much how we thought Rio was going to be for the majority of the Games. This was where I did lose the plot for a few minutes. In 3rd/4th on the final run, I made a huge error. I somehow missed the leeward marks (I can only think that I saw the finish mark instead and just didn't check) honestly I don't know how or what happened. Anyway slipping back to 10th or 8th in the end due to some black flags, was just awful. I felt physically sick when we gybed and I realised what had happened. I just couldn't believe it, I had let everyone down in that split second moment and it hurt. For a few minutes I was completely in the moment, no big picture, nothing. Just pure emotion. When you make an error early in the race or where you at least have some time to rectify it is fairly easy to move on from, but when it was so finite and there was nothing I could do to redeem it, wow that was painful. Especially when it was something so silly. Anyway, we re-grouped and I got my sh*t together ready for another go in race 2. We won the race :)
Day 5 and the final day of fleet racing. With just a small lead over the Americans and a very strong pack a few more points back, we just wanted to try and gain a few points on the people closest to us to get a little bit of breathing space going into the medal race. I have to say, this is one of the proudest days racing I have ever done. We literally nailed it. From our communication which we have spent months working on to our boat speed and starting, it was just the perfect day. We did it, we knew what we had to do going into the last race of the day and we did it!!! 20 points clear of the fleet - something we have never managed before!!! What a time to do it.
The next few days passed slowly and excruciatingly!! We had a long wait to do the medal race and get the gold medal in our hands - until that happened we just couldn't believe it was real! What a day, seeing my mum on the beach was honestly the most special moment in the world for me. My little mum! She came all the way to Rio!!! The podium was what I have dreamed about since watching Roger Black win his silver Medal and having the National Anthem played for us felt like being on top of the world!!!!
A special mention for Team Jolly who we have had an amazing rivalry with over the passed 5 years, they are incredible competitors and we were hugely pleased to see them get the silver after a hard weeks racing. Also to Helene and Camille - Team France for the Bronze, amazing competitors. Finally to the other teams, particularly USA, SLO, NED and AUT. Throughout the campaign we have had many battles with all of you and have loved racing against you guys.
So there are so many people to thank of course and I will list them below. I really hope I don't forget anyone and if I do I am so sorry. Also sorry for the mega long read, well done if you made it through!!!!!
The National Lottery Team GB Volvo Cars Sailing British Sailing Team Sperry Zhik
Joe Glanfield Saskia Clark Chris Mills Fiona Mills Nick Mills Richard MillsAlice Underwood Daniel Underwood All the family and friends who have supported and put up with me along the way!
Nick Dempsey Anne Barrett Alan Williams Andrew Pindar Emilie Thienot Paul Mullan Lily Devine all the support staff at the British Sailing Team, the other sailors who were amazing in Rio.
Sophie Weguelin Eilidh McIntyre Amy Seabright Anna Carpenter for being the best training partners ever. As well as anyone who has ever had input into my sailing career or just offered support at a time of need, THANK YOU!!!!