Who's going to win the Men's Windsurfing?
The Men's RS:X competition will be a fascinating competition with several strong contenders spread across the fleet.
A large number of the sailors in the fleet have what it takes to win the competition but it will be a case of who kicks it up when it really matters.
Julien Bontemps (FRA) comes into London 2012 as the Men's RS:X World Champion having picked up gold in Cadiz, Spain in March. The Frenchman finished ninth at Athens 2004 and won silver at Beijing 2008 and he is aware of the threats posed at London 2012, "I think there are seven or eight guys who can win the medals," said Bontemps. "I think I am part of those and that's what we've been training towards. This is my third Olympics so I'm used to the pressure and to feel the entire nation behind me. A lot of people have confidence in you and it is a great feeling."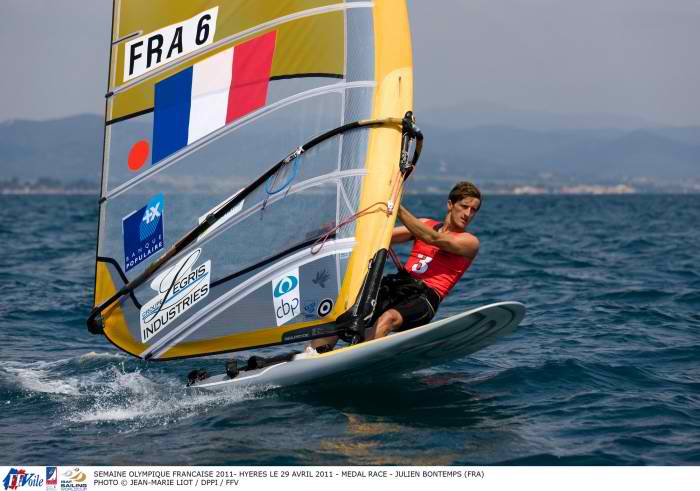 © Jean-Marie Liot: Julien Bontemps (FRA) comes into London 2012 as the Men's RS:X World Champion
2011 RS:X World Champion Dorian Van Rijsselberge (NED) is one of those who will be in the running for the RS:X gold medal and like Bontemps he is aware of his adversaries, "I'm stoked to be competing at the Games and I'm just going to try and make the best of it," said the Dutchman. "The top ten is really close together and we've got people like Julien Bontemps, Nick Dempsey, Przemyslaw Miarczynski from Poland and of course a whole lot more, so those are the guys to watch out for."
The Dutchman's laid back personality has won him a lot of fans but it'll be business as usual on the water,

"I'm looking forward to racing each other and having a good time, that's what it's all about and everybody being on their A game and trying to get a result. I love my country and that's important for me."
Nick Dempsey (GBR) is one of the most determined athletes in the fleet and as a Weymouth based lad he will know the waters better than anyone. The Brit won bronze at Athens 2004 but missed out on the medals in Beijing, finishing fourth. He won the RS:X Worlds at the same venue in 2009 and has finished on the podium at all eight of the senior regattas he has sailed in at Weymouth and Portland.
Poland's Przemyslaw Miarczynski has European, World Cup and World RS:X medals in his cabinet but has not been able to add an Olympic one to his repertoire. An eighth place at Sydney 2000 followed up by a fifth at Athens 2004 and a 16th at Beijing 2008 has seen the Polish windsurfer miss out on the ultimate prize. The 32-year-old will aim to push all the way to the bitter end.
Byron Kokkalanis (GRE) will be another strong contender having put together a run of consistent results that has seen him finish in the top ten at every regatta sailing in since March 2011. With this in his mind the Greek windsurfer comes into London 2012 bubbling with confidence, "It's a big Games for me. I just want to enjoy it, have fun and whatever comes in the end I believe it will be good."
Beijing 2008 bronze medallist Shahar Zubari (ISR), New Zealand's JP Tobin, and Germany's Toni Wilhelm will also be front runners for gold in Weymouth and Portland.