Eight Tips for getting the most out of Dock Talks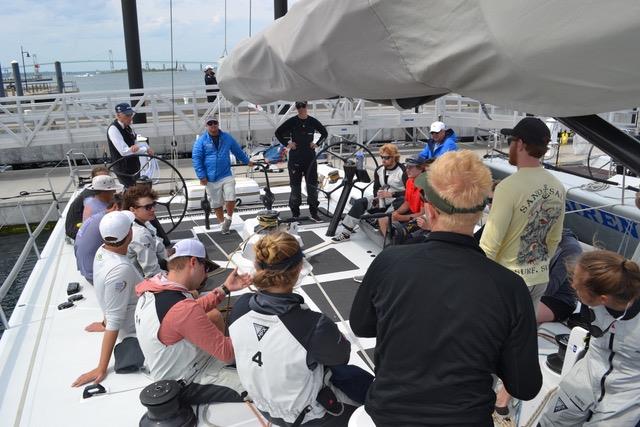 Quantum's Scott Nixon talks through 8 tips to get the best out of your post-race debrief....
One of the benefits of dock talks is that they normally take place right after racing, so they are not only conveniently timed for a busy crew, but they're also valuable as the day's racing is still fresh in mind. What's more, dock talks create an easy way to chat with experts in the class or venue. Having hosted hundreds of dock talks, Quantum's team shares its tips for getting the most out of them.
TIP 1: HAVE THE WHOLE TEAM SHOW UP
Emphasize that your whole team should attend. It's tempting to send a rep to report back, but then the team won't get the full benefit. It's also valuable for the whole team to show up because different parts of the talk will resonate differently with each crew member, and they may have a unique interpretation of what was discussed. – Travis Odenbach
TIP 2: COME PREPARED
Unless you won all the races for the day, there are always areas to improve upon. Really, even if you did win each race, there is something you can improve upon. Take a few minutes on the way in from the course or during your debrief to come up with at least one question to bring up during the talk. – Karl Felger
TIP 3: ASK QUESTIONS
Don't be afraid to ask questions. Most of the experienced sailors/pros/coaches have been in the same situation when they were learning, and they all have great, actionable advice to help you. Take advantage of it. – Karl Felger
TIP 4: TAKE NOTES
It always surprises me when I show up at a dock talk and am the only person with a notebook. Use your wet notes to jot down what is talked about and anything you want to discuss with your team later. A year from now, you'll be able to go back and review what you learned. If you don't write it down, most of the information will be lost in two weeks. – George Szabo
TIP 5: FOCUS ON SPECIFICS
Dock talks are a great opportunity to talk about the specific conditions and situations from the day. It's great if you have a more general question, but use the opportunity to really dig into how the pro and others handled the weather or executed a tough rounding. - Scott Nixon
TIP 6: ASK ABOUT SET UP
Find out how the pros set up their rigs for the day and transitioned for the changing conditions. There is a ton of value to be gained from listening to how these guys approach rig tune and set up. – Troy Scharlow
TIP 7: INTRODUCE YOURSELF
Stick around after the dock talk for some personalized support. Dinner can wait, and access to that type of knowledge is hard to come by. We're there to help; we want to help, even if that means getting our contact info so you can reach out later if you come up with other questions. – Karl Felger
TIP 8: DEBRIEF WITH YOUR TEAM
Grab a beer and discuss how you're going to apply what you've learned to your next race. Ask each teammate what they took away from the dock talk, then make a plan and execute. – TJ Craig