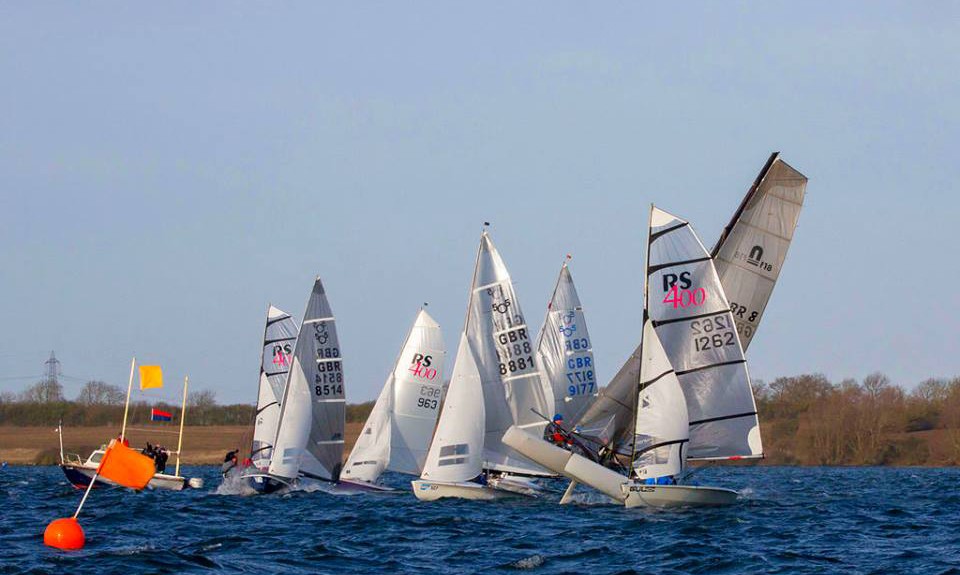 31 December 2017
After three light-air events so far in the GJW Direct Sailjuice Winter Series, the Grafham Grand Prix delivered some big breeze action on stormy Saturday, 30 December. An exciting day was in store, with 20-25 knots and gusts up to 30 knots. Of the 169 entries, only 73 took to the water for the three-race contest on Grafham Water.
The conditions in race 1 took their toll on the fast fleet with many retirements. The wind dropped for race 2 and then picked up again towards the end of race 3. Those who competed enjoyed some thrilling sailing. The fast fleet was won for the second year running by David White and Jon Sweet from the host club in a Nacra F18, with scores of 2,1,1. The first race went to Michael Sims and Rich Nurse from Carsington who raced to second overall in a 505 ahead of other two other Five-Oh crews, Tom Gillard/Harry Briddon from Sheffield Viking and Neil Rabbitts/ Mike Priddle from Burton.
Stuart Jones from Datchet Water dominated the Medium handicap fleet with three bullets in his Contender. It was a tie for second place which went on countback to Dave Hall/ Paul Constable in Fireball ahead of the Flying Fifteen sailed by two Simons, Kneller and Dabson. In fourth place was Ben McGrane and James Stewart in a Merlin Rocket.
Fergus Barnham and Andy Hunter didn't compete in the first heat of the Slow handicap but made amends in the next two to count a 2,1 and raced their Snettisham GP14 to victory. Tied for second were the Laser Standard and Laser Radial of Alistair Goodwin and Joe Scurrah respectively, but it was Goodwin's win in race 2 that gave him second overall.
Next weekend is the King George Gallop, the replacement race for this year's Bloody Mary after the Queen Mary event was cancelled. Of the 100-boat entry limit, 65 spots have already been taken including an entry by former Fireball World Champions DJ Edwards and Vyv Townend. Get your entry in soon before King George fills up.
Enter at: www.sailjuiceseries.com
THE EVENTS
The following regattas constitute the GJW Direct SailJuice Winter Series 2017/18):
Draycote Dash, Draycote Water Sailing Club
18 & 19 November 2017
Datchet Flyer, Datchet Water Sailing Club
9 & 10 December 2017
Brass Monkey, Yorkshire Dales Sailing Club
27 December 2017
Grafham Grand Prix, Grafham Water Sailing Club
30 December 2017
King George Gallop, King George Sailing Club (replaces cancelled Bloody Mary)
6 January 2018
John Merricks Tiger Trophy, Rutland Sailing Club
3 & 4 February 2018
Oxford Blue, Oxford Sailing Club
17 February 2018
You can find out more about the Series here: www.SailJuiceSeries.com