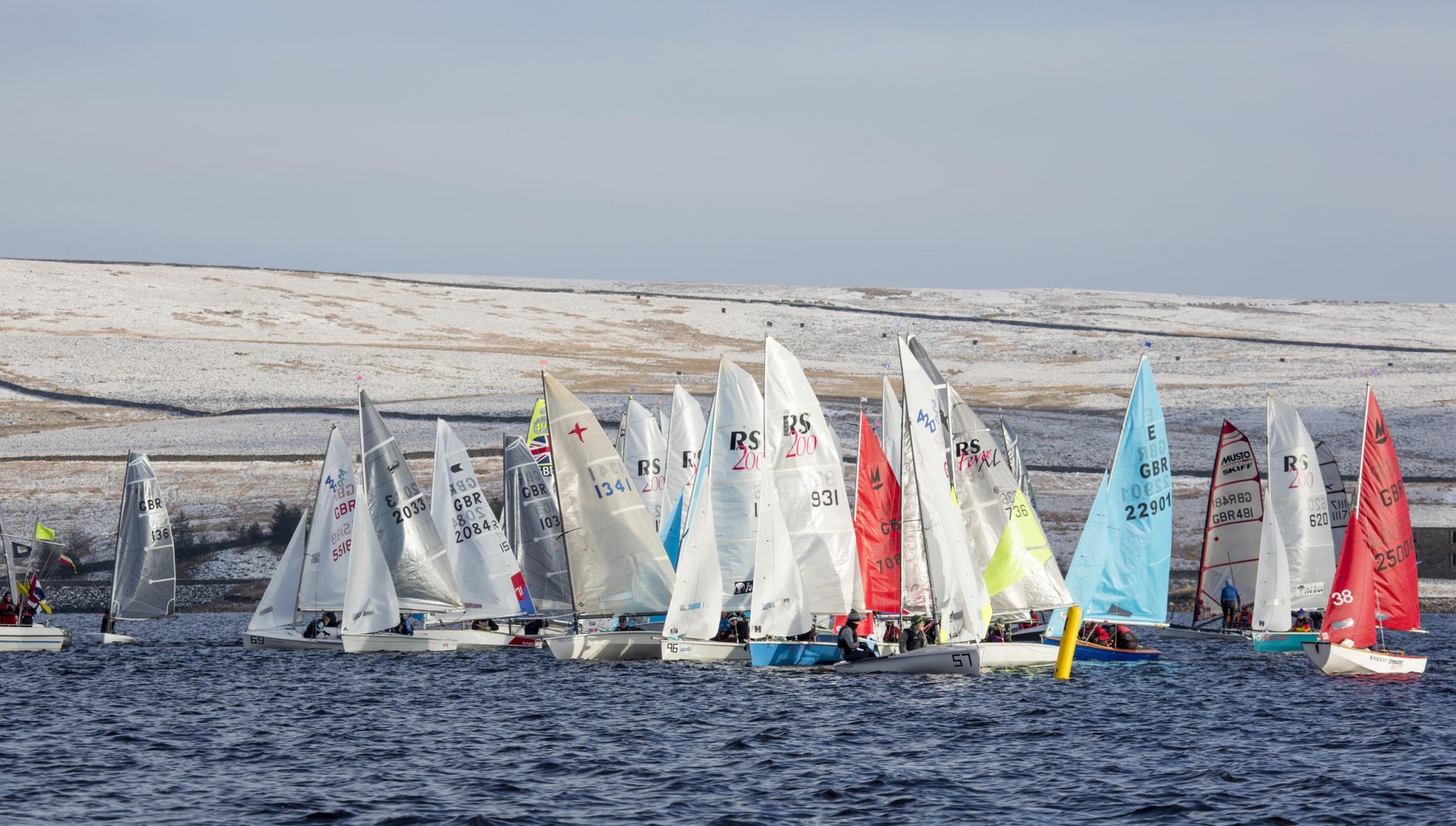 Yachts & Yachting magazine recently approached me to write about my views on handicap racing, with particular reference to the Sailjuice Winter Series. Paula Irish has written an excellent analysis of handicap racing, and here was my contribution to that piece....
My attitude to handicap racing is that someone who sails well should be able to do well and possibly win, no matter what boat they're racing and what the wind conditions happen to be on that given day.
I've been fortunate enough to win the Bloody Mary many years ago, steering a 49er with my crew Nick Murphy. This was when Queen Mary Sailing Club was using standard PY numbers provided by the RYA. In those days you were only eligible for the prizes if your class was blessed with a Primary Number. When the International Moth hopped up on to hydrofoils in the mid-noughties, the class lost its Primary Number status as there was insufficient data to give the now ballistic singlehander a sensible handicap number based on real data.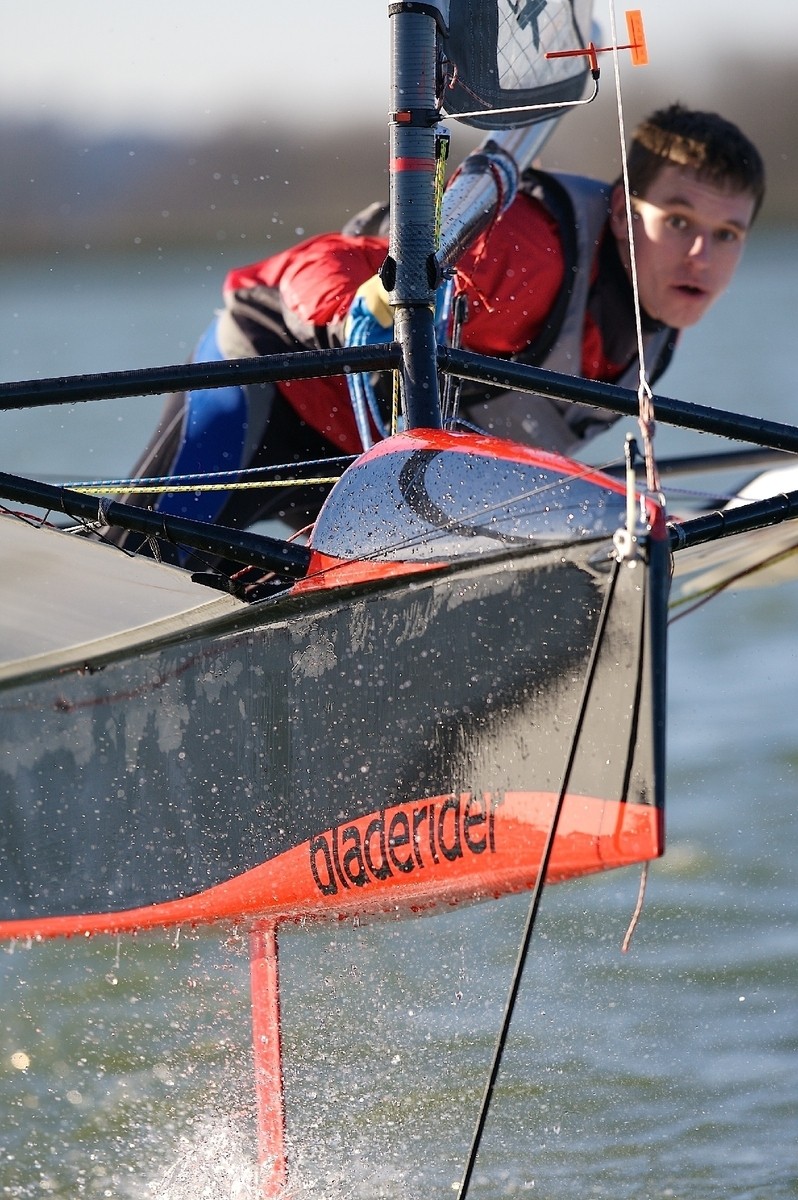 © Ian Roman: Graham Vials on his way to 'winning' the Bloody Mary that he didn't win...
A talented ex-470 sailor Graham Vials turned up to the Bloody Mary one year and wiped the floor, crossing the line miles ahead of the next boat. But because the foiling Moth didn't have a Primary Number, Graham couldn't take away the winner's trophy. I wrote about this in my Roll Tacks column in Yachts & Yachting, and was quite critical of Queen Mary's stance on this. My view was, and continues to be, that if you want to race you should get a handicap number regardless of what kind of boat you sail. To their credit, Queen Mary revised their rules for the Bloody Mary and now you can turn up and compete in pretty much any dinghy you like.
When launching the Sailjuice Winter Series a couple of years after the Graham Vials episode, I started to work closely with Queen Mary's Andrew Craig, who was instrumental in setting up the Great Lakes Handicap Group and who continues to be chairman to this day. In the early years of the Sailjuice Winter Series it was clear that some boats were better than others for winning trophies. On some occasions the Merlin Rockets and Phantoms would dominate the top 10 without any other class even getting a look in. Why? Because the Phantom had recently permitted the use of carbon rigs and the big boys's singlehander had made a step change in performance. The Merlin is one of the few classes where proper development is still going on, and the boat was getting faster by the year.
At the time the RYA PY system had pretty much fallen asleep, with the numbers changing very little year on year. When Bas Edmonds arrived, he shook the tree and the numbers started to move. This was about the same time as the Great Lakes Group formed. Andrew Craig and his team of expert volunteers met at the Dinghy Show and made some bold moves in the first year. Development classes like the Merlin took quite a hit. I recall the International 14's handicap number was pegged back by about 70 points in the first year while the Laser got a leg-up of about 40 points. Accusations and conspiracy theories flew around the forums, suggesting that the Sailjuice Winter Series was taking backhanders from particular manufacturers for giving them a favourable number. This was never the case; the aim was simply to level out the playing field and give everyone a fair crack of the whip. Despite the interventions of the Great Lakes, it should be noted that an International 14 has since won the Bloody Mary (Neale Jones and Ed Fitzgerald in 2016) while even on its more favourable number the Laser has yet to win this blue riband event.
These days we sometimes see a full house of 10 different classes featuring in the results of a Sailjuice Winter Series event. That for me is the healthiest measure of a functional handicap system and it's good to see that under Bas Edmonds' guidance the RYA numbers have been moving in a similar direction.
The current numbers work very well in moderate conditions but where there is still much room for improvement is on light airs and strong wind days. You can look at a set of results and make a pretty good bet as to what the conditions were on that day. Now, race officers and results scorers are understandably reluctant to add another layer of complexity to an already onerous task, but if we can find a way of creating wind-based handicaps, that is the obvious next step.
My co-organiser on the Sailjuice Winter Series, Sailracer's Simon Lovesey, has been working on a possible next step, which is a GPS-based system that he calls Dynamic Handicapping. Broadly speaking, if the GPS trackers are indicating that, say, the Lasers are planing downwind nearly all the time, then clearly it's a windy day. If they're dipping in and out of planing and displacement mode, it's a moderate day. If the Lasers are permanently in displacement mode, it's a light airs day. That's a pretty broad brush explanation but hopefully you get the picture.
Dinghy handicapping has come a long way already in the past decade, but we've got a lot further to go yet, and digital technology like GPS trackers could hold the key to making handicap racing even fairer.