MP3: Quantum Theory - Terry Hutchinson talks TP52 team chemistry
Audio (8 minutes): Terry Hutchinson says that opposites may not attract, but putting different personalities together was still a vital part of creating a Quantum Racing team that was strong enough to dominate the TP52 circuit in 2008. His exploits in the TP52, and also winning the Melges 24 US Nationals, has earned him the honour of Rolex Sailor of the Year.


To download this MP3 audio file to your computer, click the link below to go to the Download page:

Download Terry Hutchinson Quantum Theory MP3 file...

See below picture for a summary of the audio contents...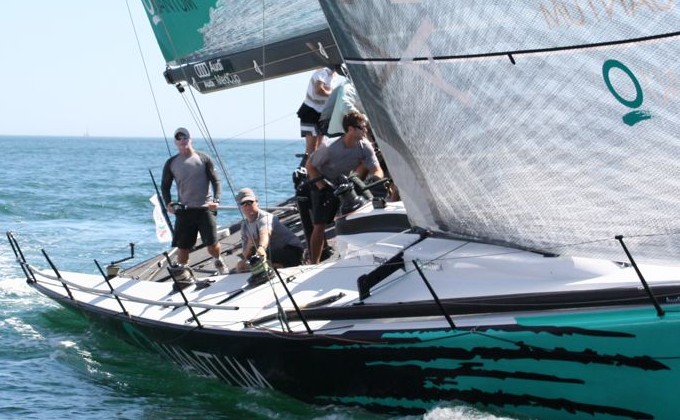 Terry steering Quantum Racing to victory in 2008

Here are some of the things that Terry covers in the 8 minutes of interview:

Concept of Team

You need: work ethic, different personalities, and skill level - probably in that order of priority.

Everyone needs a solid work ethic, you need personalities that complement each other, and you need some Chiefs and some Indians, about a 30:70 ratio.

The Quantum afterguard

"When I look at the afterguard of our boat, you probably couldn't find more diverse peronalities than me, Morgan Larson [tactician], Ian Moore [navigator] and Mark Mendelblatt [strategist]. I always feel we need a good balance of personalities, for when things aren't going well. Everyone's happy chappy when you're winning, but when you're not winning is when you need to continue to move the thing forward."

Picking a whole team of the very best sailors could be a disaster...

"There are a lot of really good sailors but I'm pretty sure if you write down the best sailors and stick them on a boat together, they won't do very well. If you have a stubborn personality, and everyone else is the same, you might win but it'll be hard."

Leadership

"Someone's going to have to lead and someone's going to have to follow, and it's a matter of how you lead that will get people to jump off the bridge when the time comes."

Opposites can work together

"Morgan and I are opposite people. If i can work all day for 18 hours, then I will. Morgan has the same drive but he's more relaxed. Nothing would faze him, except when I got up tight!"