Dunster's recipe for Olympic Survival
In the words of Charles Darwin: "It is not the strongest of the species that survives, nor the most intelligent that survives. It is the one that is most adaptable to change". In that context, sailing is in for a rough time…...
So says Roy Dunster in this add-on to the podcast chat from last week. It's by no means a word-for-word repeat of the podcast, however. So go listen there for the full discussion between Roy and Andy. Roy's not exactly a household name but the reason we've given him air time is to put the other point of view, a vote for radical change to the Olympic Regatta. Hence why we titled that particular podcast: "Change or Die".
AR: A lot of people have been giving World Sailing (WS) a hard time for recent discussions at the Mid Year Meeting, but you seem to see it differently…
RD: I wouldn't be interested in WS bashing. I think the Equipment Working Group has just been given a raw deal but there has been so much noise going around, maybe that was predictable.
AR: Part of that 'noise' was the online petition which gathered thousands of votes from sailors all around the world. But I don't think you were a fan....
RD: The "facts" in the petition were incorrect and that should have been obvious to the people that wrote and published the original magazine article, and the petition initiator. To date, there has been no attempt (that I'm aware of) to correct the above and, for a sport that's largely self-policing, that's a problem. Given the profile of some of the names involved, I would have expected better.
AR: Your outlook on sailing in the Olympics seems quite different compared with many other people I've spoken to. What's the context for that?
RD: Maybe it's useful to qualify the lens that I use to view the world. I'm not a traditional sports spectator and watch virtually no sport outside of sailing. Within sailing, I follow the top events (VOR and AC) closely but most other categories far less so, unless they are truly innovative.
My career as a management consultant means that I am used to being concerned about whether an entity can perform better. That ranges from a focus on helping it to be more profitable to what needs to be done to just enable it to survive. If making an organisation better was just about making adjustments to a few machines, it would be very easy. However, it's never like that. "People" are the reason that organisations are successful or the opposite. People also tend to be resistant to Change – and the events at WS's Mid-Year Conference were a good example of that. Despite a clear case for Change, when it came to the final vote for 2024 Equipment Selection, the majority of delegates did their best just to hang onto the status quo. In the words of Charles Darwin: "It is not the strongest of the species that survives, nor the most intelligent that survives. It is the one that is most adaptable to change". In that context, sailing is in for a rough time…
I tend to be interested in the reason that things are the way they are (rather than just accepting that "they are") and how much better they could be if we removed the constraints.
It's not just WS that gets bashed – it's also the IOC. Depending on who you talk to, the latter is "too commercial and focused on profits". Perhaps sailors should rather try and see things from the other point of view:
The IOC has just 2 events – the Summer and Winter Olympics. In terms of countries participating, the latter is about ½ the size of the former. In other words, if the Summer Olympics is unsuccessful, it's not likely that the Winter Games would reverse the losses.
So, if we just concentrate on the Summer Games: The event happens for a 2-week period once every 4 years. At the end of the event, the IOC has either made enough cash, effectively for the next 4 years, or it hasn't – and that includes being able to pay salaries for several hundred people.
The IOC works with host cities that invest US$ Billions in infrastructure to stage the events. That includes sports facilities / stadia and athletes' accommodation and there are new sports trying to become part of the Games all the time. However, there are physical limits to the number of athletes that can be accommodated. The host cities / countries are willing to partner with the IOC because it is a marketing opportunity for them and they use the Games to show their country (and beaches, water, scenery) off to its best effect.
The organisation and technology involved in putting on the Olympics and publishing it are enormously expensive. Apart from anything else, you have other major events (e.g. the Soccer World Cup, Formula 1 racing, etc) which have set the bar really high so you need to be able to put on an event that is at least their equal. There's also a risk of terrorism, unfavourable weather, etc.
Given all of the above, how focused would you be on making a profit?
Then, you have this sport called Sailing that has amazing technology and can be compelling to watch. You know that because you've seen it in other events – e.g., the Americas Cup, foiling Moths, the VOR, etc. However, for the Games, Sailing refuses to move with the times. If fact, for people who are pure spectators, the event is actually pretty boring, as shown by TV ratings, number of spectators on-site, etc. The result is that the host city / country's facilities don't get shown off to their best effect – so they spend a lot of cash on infrastructure and running the sailboat racing but get very little return from it.
You also need to consider the countries that send the athletes: investing in winning medals is only worthwhile if the publicity can be leveraged into showing how the nation is superior to others or if it can inspire a new group of athletes.
In summary, it's time sailors started seeing another point of view. The IOC doesn't actually need us and we would be very easy to replace. At the very least, we are likely to be faced with a declining number of events / medals / athletes.
Again, what would you do if you were the IOC?
AR: What do you think about the need to accommodate different size athletes at the Olympics – for example, heavyweight men?
RD: I've friends that sail Finns, or are certainly heavy enough to do so, and they talk about it… Often… We should rather think about broad categories in sailing, and I can think of about 9, i.e.:
Dinghies
Multihulls
Skiffs
Foilers
Kites
Sailboards
Keelboats / distance sailing – due to athlete quotas, we'll need to accept this is "short-handed" sailing, rather than racing with a 10-person crew
Singlehanded
With a crew
If we go through that list:
Kites have only just been admitted to the Games;
Cats were part of it, got deleted, are part of it again now but with only one event for Men and Women;
Foilers have to double up with cats;
There's no keelboat in the Games;
In terms of the current proposal for 2024, there will be 4 singlehanders… Where is the balance?
If you think about it in those terms, this obsession with the Men's Singlehanded Heavyweight dinghy (and the droning on that if we don't have the Finn then a group of people can't sail in the Olympics) is difficult to understand? What about all the other people that can't sail?
Moreover, if it wasn't so obvious that the Finn lobby was so strong, you'd have other (better) boats competing for the spot. If you're not sure about how rapidly our sport (outside the Olympics) is progressing, read my table that is published elsewhere on the Sailjuice website. You might also want to review the Yachts and Yachting article about what people should, in fact, weigh at different heights http://www.yachtsandyachting.co.uk/home-featured/opinion-olympic-sailing-changes/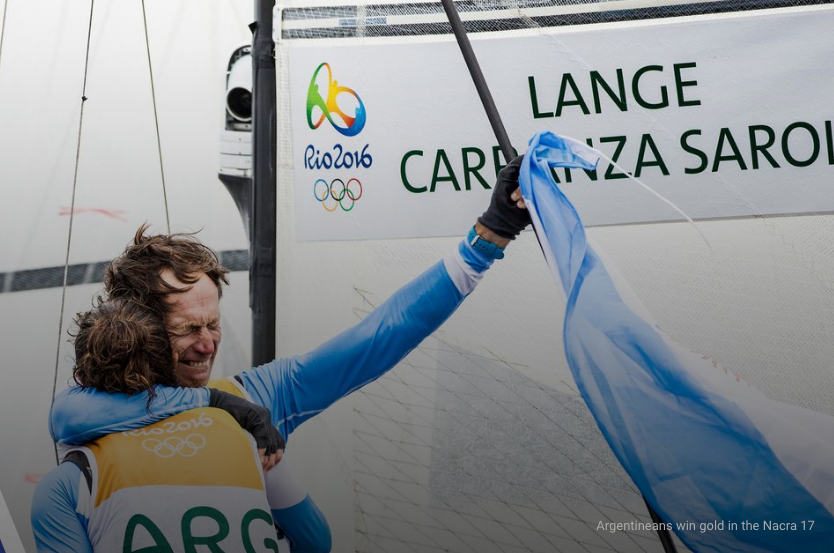 AR: What are the memorable performances over the Games that you can remember?
RD: With the exception of a very few, I wouldn't be able to describe them in much detail. However, the overall trends and events behind the racing are of more interest to me.
From Rio in 2016, Santiago Lange and Cecilia Carranza Saroli winning the Nacra Gold was an incredibly inspiring story for anyone that has had to deal with cancer. It was also noteworthy how the best modern boat (i.e. 49er) sailors (i.e. Blair / Tuke, Outteridge / Jensen) were able to transition seamlessly into the America's Cup and how Burling and Tuke both seem to be having successful VOR campaigns.
Apart from that, there have been some major trends. For example, the USA won medals in all 7 classes at the 1984 Long Beach Games but have really struggled over the last few cycles. In the meantime, Australia and the UK have become sailing superpowers.
Then the Tornado was a great example of how years of Olympic sailing can make a boat so much better. When the original Tornado was up for review before the 2004 Athens Games, it dominated the Selection event, despite having just one trapeze and no spinnaker compared to the double wire / A-sail format of virtually all its competitors.
A few athletes, such as Ben Ainslie and Torben Grael, have been obviously better than everyone else – Burling / Tuke could well be similar. There have been others but, with a couple of exceptions, all the really good Olympians have excelled in other boats as well.
AR: What are your suggestions for WS right now?
RD: In the context of Equipment Selection, the obvious point is that the people that voted to keep the status quo need to reconsider. The Equipment Working Group did a thorough job and their recommendation should stand. Furthermore, using the business analogy, most companies wouldn't have great odds of retaining key staff if they were second-guessed each time they had to deliver a major project. If I was a member of the Equipment Group right now, I could probably think of better ways of using my time.
On the positives, having "Events" rather than a particular "boat" is a step in the right direction and these events need to be allowed to evolve frequently. For example, it might make sense to cap the number of cycles that a boat can be used in the Games.