Scott takes control in Enoshima while Cardona moves up on third day at Tokyo 2020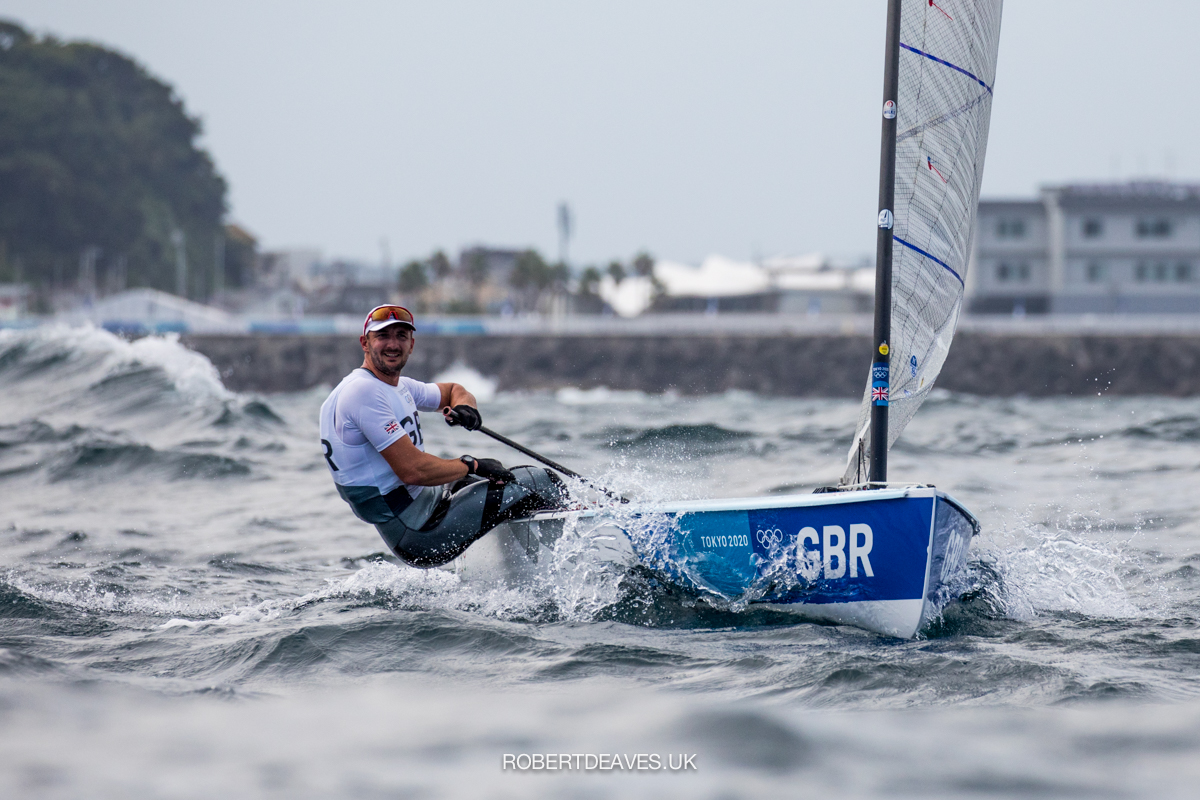 Giles Scott made it four race wins in a row to move into the overall lead after two more confident victories on Thursday, the third day of the Finn competition at the Tokyo 2020 Olympic Games. Spain's Joan Cardona also moved up to second, after a 2,3 to leave them with a one point separation going into Friday's rest day. Zsombor Berecz, from Hungary, drops one place to third after a 6,7 and is now seven points behind Cardona. The fleet returns to Sagami Bay on Saturday.
It was a day that promised more than it delivered in terms of wind and waves, but there was still ample to go around on Thursday with the early 14-15 knots dropping off to 12-13 knots as a blanket of light cloud covered Enoshima into the afternoon. The onshore wind produced enough waves to make things interesting though it did tend to become a one-way track to the right most of the time.
Most of the leaders monopolised the right, heading towards Enoshima Island out of the start, which was just off the harbour wall, and then tacking under the shadow of the Enoshima Sea Candle, the biggest landmark in the area beside Mount Fuji, which has been hidden in the clouds since the racing has started.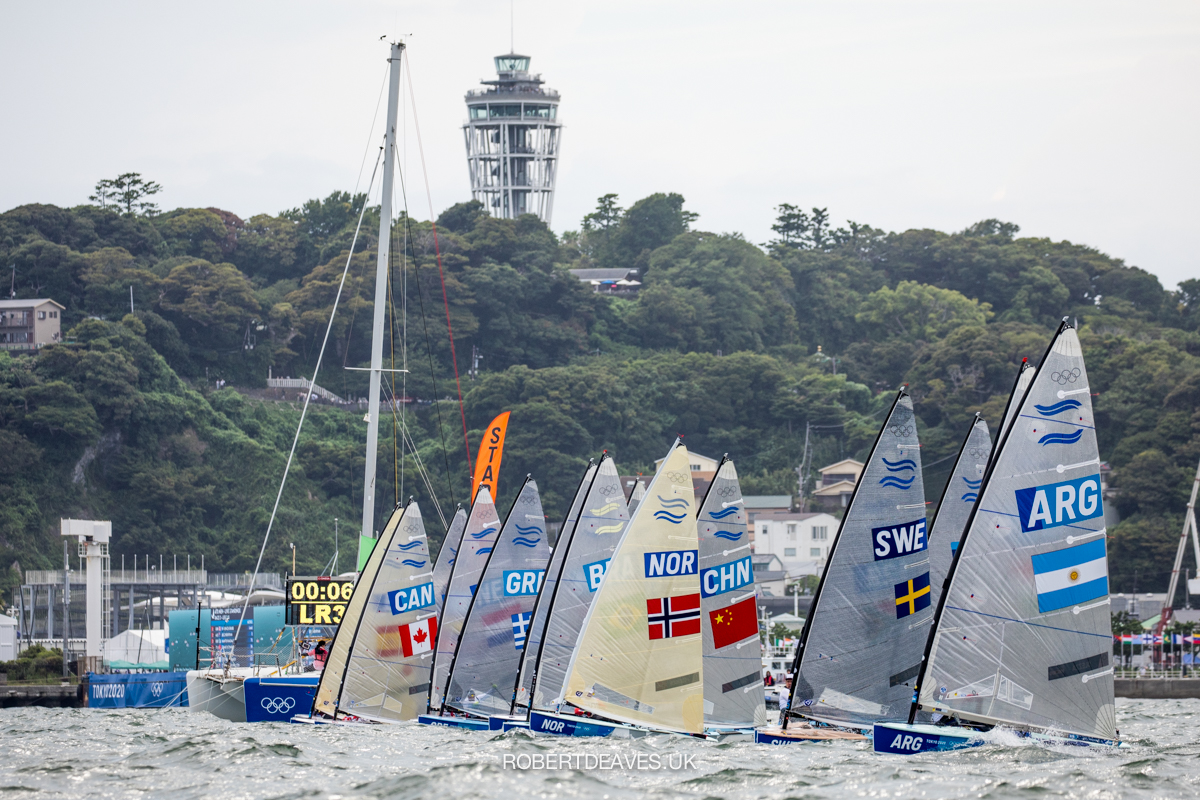 Race 5 turned into a battle of wits between Scott and Cardona. Cardona led at the top from Scott and Ioannis Mitakis, from Greece, and led for the next two rounds on the three-lap race. Cardona and Scott were never more than a few seconds apart throughout the whole race. Scott finally got through on the second downwind, but couldn't get away. Cardona almost retook the lead at the final top mark but had to bail out of the mark rounding and take Scott's transom and follow him down to the finish.
Third place went to Argentina's Facundo Olezza. Rounding the first mark in sixth, he moved up to third on the second beat and stayed there until the finish. He ends the day in fifth, just two points behind Berecz.
After a disappointing start to the regatta, USA's Luke Muller, finally got going in Race 6, leading round the top mark from Scott and Cardona. Scott took the lead downwind while Nicholas Heiner, from The Netherlands, moved up to third. Scott held a short but comfortable lead for the remainder of the race with Muller, Cardona and Heiner battling hard for second.
Muller actually held on to second until the final downwind, when both Heiner and Cardona came past. They rounded the final gate just seconds apart to sprint down to the finish. Heiner took second, Cardona third and Muller fourth.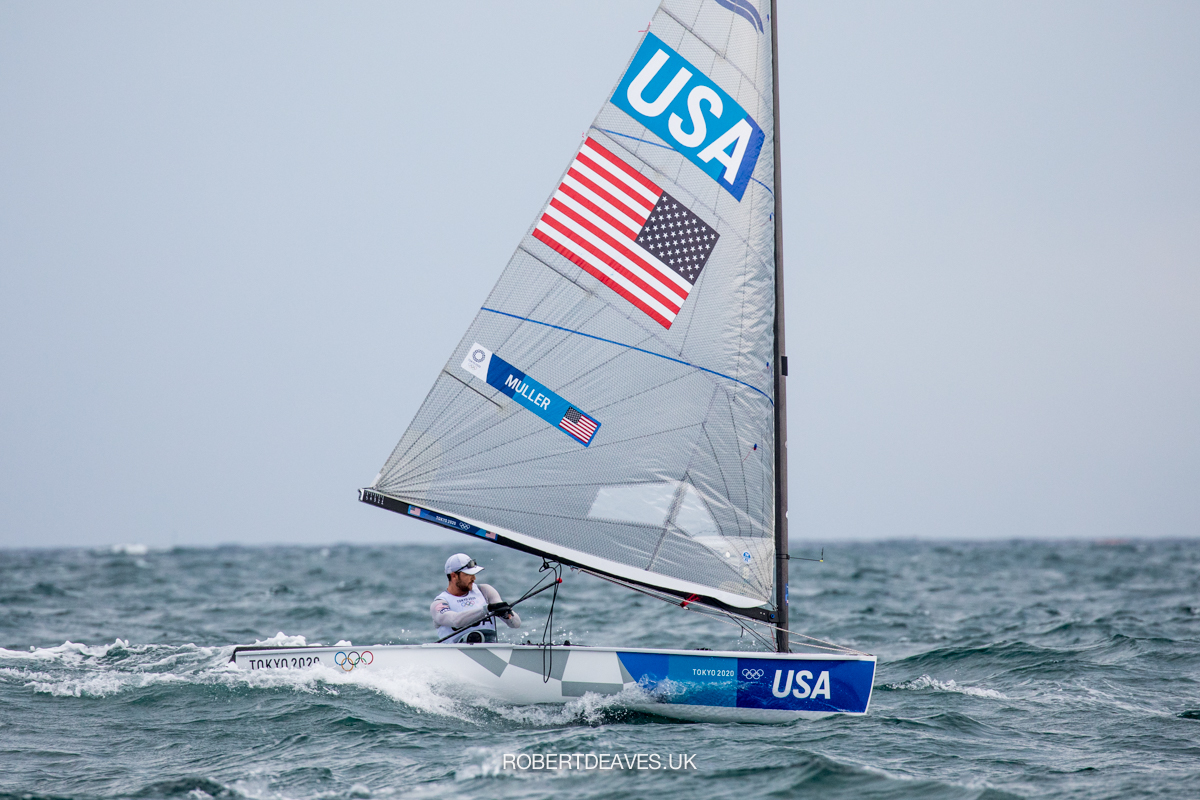 Muller came into the Olympics on the back of a sixth place at the Finn Gold Cup, the best US result at the world championship for more than a decade, and was keen to emulate the success of his predecessors who won medals for the US in both 2008 and 2016. However he has had a tough start to the regatta and sits in 12th place.
"Finally a good race; I was finally able to put one together."
He added, "The last two days I've had a lot of trouble downwind. I think I was just doing a bit too much and not letting myself feel the waves and after that first upwind in the last race today, rounding in front and with not a lot of pressure on, I just slowed things down and got on some waves and ended up fourth."
Despite the setback he is admirably staying positive and objective. "I have two options. I could dwell on what's occurred or I can best prepare for what's ahead, so I'm going to choose the latter.
"It's really nice to go into the rest day on a high. There is a lot of racing still ahead and a lot of work be done. For now it's time to go home, and rest and recover and do the work on land to prepare for the next four races. I'm not sure about the forecast at the moment but surely the offshore courses can deliver some great conditions and I hope to be prepared for anything."
Cardona is having a great regatta and seems to be enjoying every moment.
"It was another really nice day with wind and waves and I really enjoyed it. I felt really quick upwind, though not so much downwind. But still I had two consistent results and am closer to the medal race and closer to winning the gold."
In the first race of the day, "I was leading and feeling really quick upwind, but Giles was a bit quicker downwind and it was hard for me to catch up. The wind dropped a little bit and I think he adapted better to get the lead and it was tough to get it back from him again, but I am still happy with the second place.
"We've had two big days, so it will be good to have some rest tomorrow and come back strong for the next day."
He says he remains confident. "I have been in really good shape over the last year and I came here really confident and knowing it's maybe my last chance in the Olympics, so I want give my best and I am happy I am performing so far and I hope it keeps going for the rest of the week."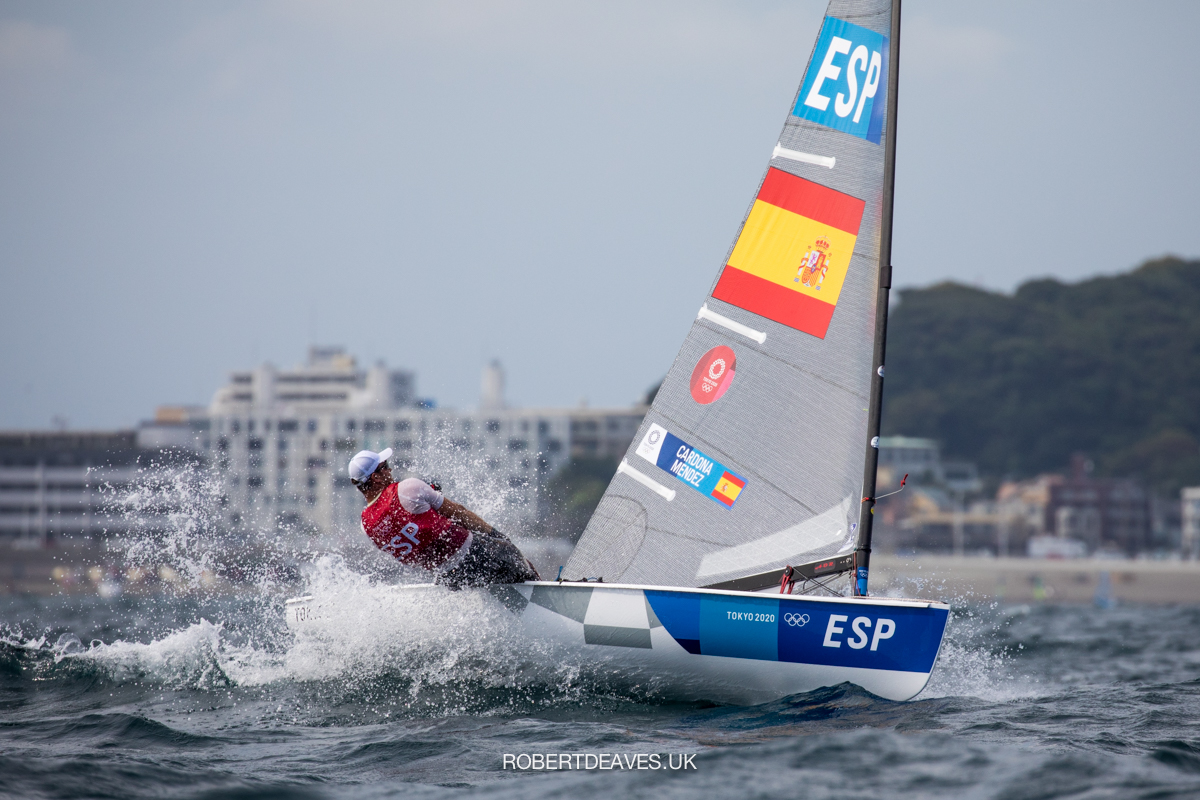 Scott said of the day, "The course was good. That onshore direction is perfect for the Enoshima course area. Myself and Joan had a good day and managed to make that right side work which stuck us out in front."
He explained about the race area, "It's pretty tricky this course and there's always something going on, but not always the same thing. There's normally a side that pays, and it swings around, but today I had my head round it.
"The shorter laps also keeps the intensity up, that's for sure. There's no respite and even though it's a 50-minute race, it feels like a sprint race. It's very different from the Gold Cup racing we were doing a month ago."
It was vintage Scott on the water today, rounding near the front and moving ahead downwind. It looks very much like he has returned to form at just the right moment, and is now definitely the one to beat. Four race wins in a row at the Olympics is a concern for everyone else chasing that gold medal and provides a lot of food for thought as they go into a rest day on Friday.
With six races now completed the scheduled reserve day on Friday becomes a rest day. The Finn fleet returns to Sagami Bay on Saturday, with two races scheduled for the offshore Sagami race area from 12.00.
Full results can be found here
Full galleries can be found here