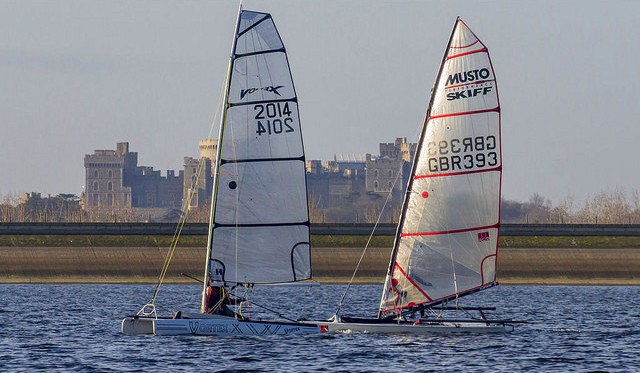 28 September 2017
Entry now opens for the ninth edition of the GJW Direct SailJuice Winter Series, which kicks off with the Fernhurst Books Draycote Dash on the weekend of 18/19 November 2017. Many sailors like to sign up online early before events get filled to capacity, as many were last year with three events selling out. Previous winners include multiple national and world champion Nick Craig who won two seasons with various crews in his Merlin Rocket, multiple Fireball World Champion Tom Gillard, and another Fireball World Champion Matt Mee who with Emma Norris won last season's championship in their RS200.
The official launch for the coming Series took placing during the Southampton Boat Show on the GJW Direct stand. Among the guests was Ian Walker, who has recently retired from his illustrious career as a professional sailor to become Race Director at the RYA. Ian is a past winner of a number of some events in the Series including the Bloody Mary. Last winter he turned up at Rutland Water to celebrate the memory of his late, great friend and fellow Olympic medallist, John Merricks. Not only did Ian make the after-dinner speech but he won the Tiger Trophy too, sailing an RS400 with Keith Bedborough. Ian is a big fan of the close quarters battle of handicap racing, and it wouldn't be a surprise to see him out competing again this winter, especially now he doesn't have a Volvo Ocean Race trophy to defend.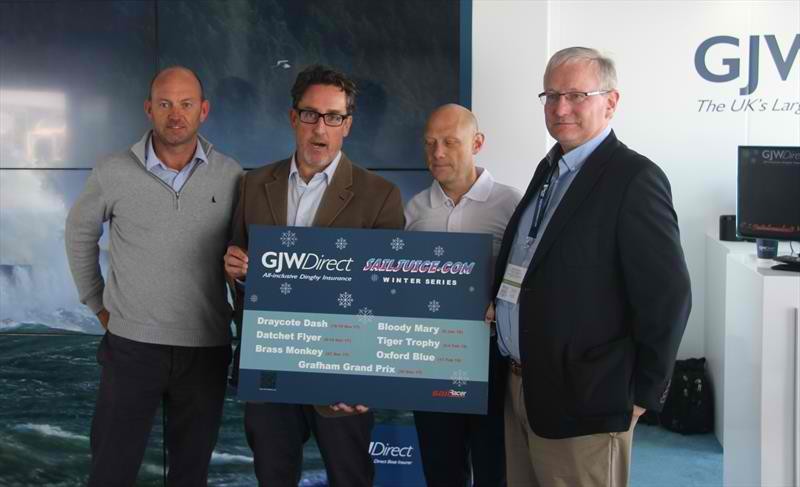 Here are some more facts on the Series:
BIG NUMBERS
Last year's GJW Direct SailJuice Winter Series saw over 1,000 competitors from 278 sailing clubs taking part in 89 different racing classes. The Series has a massive online following each winter, with a big growth in mobile access. Last year attracted more than 36,000 unique users who totalled more than 107,000 visits to the Series website, www.SailJuiceSeries.com

MAKE IT YOUR CLASS WINTER SERIES
Last year a number of classes scheduled the GJW Direct SailJuice Winter Series as a key part of their calendars, with SailRacer producing class specific extracted results. Any class interested in their own Winter Series as part of the GJW Direct SailJuice Winter Series, please contact Simon Lovesey @ SailRacer, with class prizes for any achieving 15+ entries. Last season saw 14 classes with entries over 15 boats.
FOUR OUT OF SEVEN
The same seven events are back from last year's Series. Once again, you must count your best four results from these seven events. Of course, you're welcome to enter and compete in as many events as you like - all seven if you're big enough to take on the challenge. This will give you more shots at getting a set of four good scores to put on the board.
THE EVENTS
The following regattas constitute the GJW Direct SailJuice Winter Series 2017/18:
Draycote Dash, Draycote Water Sailing Club
18 & 19 November 2017

Datchet Flyer, Datchet Water Sailing Club
9 & 10 December 2017

Brass Monkey, Yorkshire Dales Sailing Club
27 December 2017
Grafham Grand Prix, Grafham Water Sailing Club
30 December 2017
Bloody Mary, Queen Mary Sailing Club
6 January 2018
John Merricks Tiger Trophy, Rutland Sailing Club
3 & 4 February 2018
Oxford Blue, Oxford Sailing Club
17 February 2018
2016/17 GJW Direct SailJuice Winter Series Prize Giving
Find out more at: 
www.SailJuiceSeries.com