How to survive a 40kt gust, and win
Ben Schooling is one of the top Musto Skiff sailors in the UK, and has been one of the top performers in recent editions of the GJW Direct SailJuice Winter Series. At the Steve Nicholson Trophy at the end of January 2014, the asymmetric fleet (which Ben won) was hit by a massive 40-knot gust that wreaked havoc across the racecourse at Northampton Sailing Club.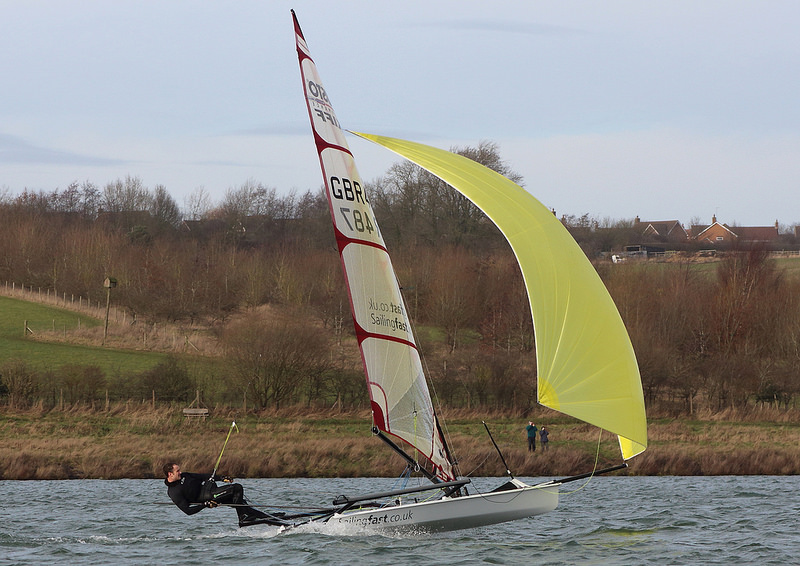 © Paul Williamson: Ben Schooling at the Steve Nic 2014, before the storm...

Even Ben, who has some of the biggest biceps in the Musto Skiff fleet, was struggling to keep body and soul and boat together, so SailJuice.com asked him what he would do next time if faced with a similar survival scenario. This is what he said...
Survival conditions Pre-start:
· Looking to minimise sail flogging (pull Kicker and cunno on) to reduce wear on sail and mast – try and find shelter if possible (quiet bay etc)
· Keep boat moving - will track up wind gradually. Sit on rack with main in hand so can dump quickly. Lift board a few inches (keep below boom!) to help slip sideways
· Stay out of power zone, bear away in a lull in flat water to drive quickly back down wind. Pick moment to round up, heel boat to windward and steer up quickly to avoid "knock down".
Survival Conditions Start:
· Avoid close contact with other boats as much as possible. Port/starboard rule still applies but also need to look at level of boat control of other helm on port.
· Musto Skiff is very prone to stalling through tacks and go almost as quickly in reverse it seems!
· Aiming to just get across the line in control and clear of other boats – not capsizing will guarantee you a decent position.
Survival Conditions Racing:
· Main aim is to keep the rig in the air – keep it simple, one tack, one gybe if the course allows!
· Potentially ease kicker pre-tack to reduce risk of stall out. Try and pick a flat patch between the waves to tack.
· Gybing – safety gybe. Goal is to get the main over in control, can forget about the kite and sheet in after the gybe – wine glass is a risk but it's better to stay upright.
Extreme survival:
· Conditions at Stevie Nicholson Trophy 2014, Pitsford Reservoir saw a sudden +40kts squall appear from a 20kt average in the space of 5 minutes. NO boats stayed upright, K6s and VX1 keelboats turned turtle due to the severity.
· If you can get ashore before it hits or better still don't go out in the first place! However if you get caught out....
· Three key messages: 1. Stay safe, 2. conserve energy, 3. minimise breakages.
· Turn turtle and stay with boat - easier to spot and rescued. In such extreme conditions the rescue teams will bring you ashore and leave the boat.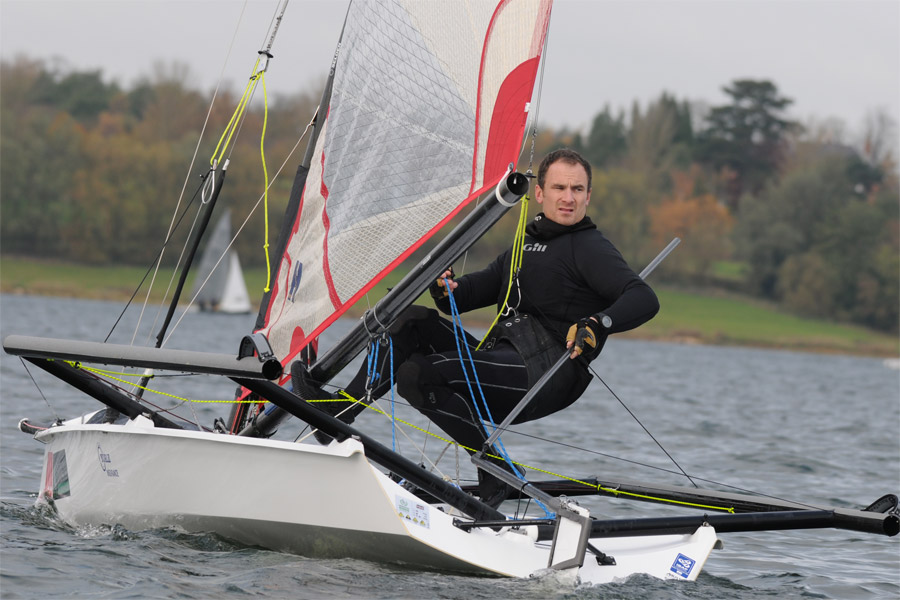 © Malcolm Lewin: Ben Schooling, not in a storm


My experience at the Steve Nicholson Trophy 2014:
· I could see others being rescued from their boats but I stayed with my boat as I wanted to avoid damage. Depth was an issue and so I was trying to keep boat on its side but it would just blow round head to wind, something I'd not really experienced before. As soon as the main lifted out the water the boat would flip over violently. The Eskimo roll is a fairly common manoeuvre in the Skiff but in this much wind the boat just lifts clean out the water over your head!
· After repeated attempts to right the boat and get it sailing upwind away from the rapidly approaching shore and sapping a lot of energy in the meantime I had to admit defeat. I got the boat on its side with mainsail zip facing up and managed to drop the sail. I then righted the boat and climbed in over the back and scrunched the main sail under the boom.
· I was approaching the shore so lifted the foils, landed boat on shore and held it off the beach (wrong end of reservoir).
· A rescue boat came by not long after and I gave them my daggerboard to avoid damaging it – rudder was still in stock but lifted out. They passed me a line which I wrapped twice round the mast and held onto the end, kneeling in the centre of the boat. I'd always avoid tying it off so it can be quickly released should you capsize under tow.
· The RIB towed me back to shore, the wind dropped off as quickly as it had arrived and luckily the tow home was pretty straightforward. Many thanks to the Northampton Sailing Club rescue teams for a great job.
· Last thing to do (after a warm shower and cup of tea!) is to check boat for damage before next sail. My mast spent a bit of time in the mud so a hose to clear it out while it's still wet is much easier than if it goes solid.
· Also think about what you could have done better. With hindsight I would have probably dropped the main earlier rather than battling to right the boat for 20 mins and reaching near exhaustion. By being so tired you really limit your options and it can quickly become a mission to minimise damage to the boat to a fight for your own survival.
Ben Schooling
Musto Skiff GBR487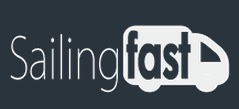 "The SailingFast website has been designed to offer a quick online solution to your needs for sailing spares, whether you're looking for the essentials, like sails and trolleys, to tiny shackles and ropes, you can be sure that anything you find on the SailingFast web site has been tested by our team and is, we believe, the best there is available today."