What can Sailjuice do for you?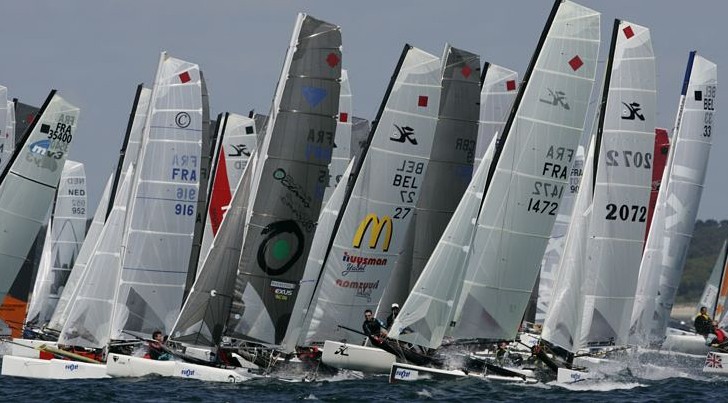 So then, SailJuice - what are we all about? And why should YOU care?

At SailJuice, we believe that sailors can improve their results on the race course, no matter what your current skills or abilities. Now that might sound obvious, but it's amazing how many people limit their own abilities to make progress by the limits of their expectations. "I'm rubbish in light winds", or "I always capsize at least once on a windy day" or the typical self-limiting things that we hear people say. What marks out the really good sailors is their desire always to improve themselves, and a refusal to believe that where they are today is where they'll be tomorrow.

To give you an example, British sailor Ian Barker started sailing 49ers in 1997 when these crazy boats first appeared on the market. His tendency to capsize at regular intervals earned him the nickname of Captain Splash, and Ian didn't help his reputation by training with a flotation device lashed to the top of his mast to prevent him from turning turtle in the event of a capsize. Very uncool... But who had the last laugh? Ian Barker, crewed by Simon Hiscocks, went on to win the British Olympic trials on the last gybe of the last race and went to the Sydney Games where he won an Olympic silver medal.
If you are serious about improving your results on the race course, then you've come to the right place. We've gathered tips and advice from the very best (Captain Splash included - although we've not asked him about how to keep a 49er upright!). If you take notice of what they say, and apply their advice in a structured way using the discipline of goal-setting, then your sailing skills will improve, and so will your results.

About Andy Rice, editor of SailJuice.com
I've been sailing since 1981, and I've been writing about sailing ever since 1991, when I was competing in a 470 at Hyeres Olympic Regatta in the South of France. My first victim was Jochen Schuemann, the three-time Olympic Champion who won medals for East Germany and then the reunified Germany. This was just two years after the fall of the Berlin Wall, and Jochen was still struggling to learn how to use a credit card and book his own hotel room!
I sold that interview to Seahorse Magazine, and couldn't believe I'd actually got paid to talk to one of my sailing heroes! It was better than real work. I took my own sailing quite seriously at that stage too, and spent a few years crewing 470s and steering 49ers in the British Olympic Squad. I didn't quite made the grade as an Olympic sailor in my own right, but I have been privileged enough to sail with many great sailors along the way. These include John Dransfield (three-time Fireball World Champion), Ian Walker and Simon Hiscocks (both double Olympic medallists), Steve Irish (420 World Champion), Martin Jones (14 World Champion) and the late great John Merricks (420 World Champion and Olympic silver medallist).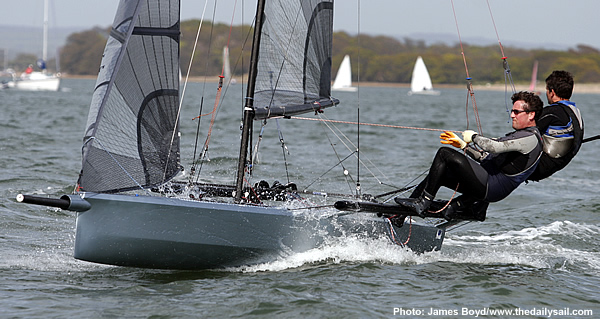 I bowed out of serious Olympic competition in the late 90s, but have kept sailing in some of the amateur classes, and have won a couple of National and European Championship titles along the way. In recent years I've been crewing International 14s for people like Mike Lennon (that's us in the photo; we were 5th in the 2008 Worlds), and do a bit of singlehanded sailing in either a Laser or a foiling RS600FF (from the sublime to the ridiculous, you might be thinking). Occasionally I venture off into keelboat racing, and I love the team work element of big boats, but just can't stay away from the thrills and spills of dinghies.

Meanwhile, since that interview with Jochen Schuemann all those years ago, I've been working as a professional journalist. After a spell in medical, pharmaceutical and financial journalism, I went full time into sailing journalism at the beginning of 2000. These days I write regularly for a number of sailing magazines including:
Yachts & Yachting

Seahorse

Yachting World

Boat International

Sailing World (USA).
The other side of my work is event reporting, which I do via a media agency which I set up in 2004 with James Boyd, one of the most respected journalists in the sailing busienss. James and I modestly decided to call it Sailing Intelligence! I won't bore you with the details here, but if you want to know more you can check out the Sailing Intelligence website here.
If you're already a paid-up member of SailJuice.com, I hope you're enjoying it and that your sailing is really benefiting from some of the wisdom within these pages. If you're still making your mind up whether or not to join, remember that you can take advantage of our 21-day risk-free trial, so you really have nothing to lose by giving SailJuice a test drive.
The very best of luck to you. But more importantly, the best of skill to you. We can't promise to bring you the luck, but work with us and we can help you develop skills that will stay with you for the rest of your sailing days.
I look forward to seeing you on the circuit, and hearing about your successes.
Andy Rice
P.S. If you want to get in touch, you can call or email me from the Contact Us page...