RYA Olympic Manager, Stephen Park, has described Ali Young, as potentially the "dark horse of this Olympic Games" after the 25-year-old's performances over the past year propelled her not only into the British Sailing Team for London 2012, but also put her firmly amongst the Olympic medal reckoning.
Ali was one of the final sailors to be selected for Team GB in May and immediately justified the nod with a career-best fourth at the 2012 World Championships in Germany before she won her first ever senior World Cup event, Sail for Gold Regatta, against all her main Olympic rivals, at the Olympic venue in June.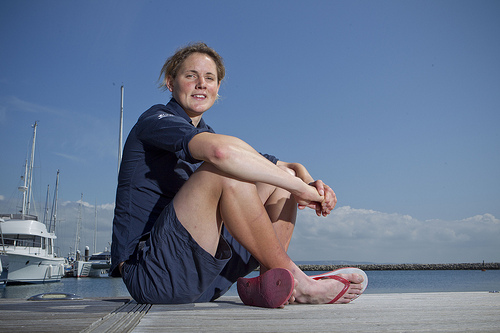 © RYA : Ali Young not daunted by her rookie status
Now she is ready to announce herself on the biggest sporting stage of them all. Ali said: "Aim to win because there's no point setting your standards lower and then just do what you can to achieve that. Do your best and if best is good enough to win, great.
"There are a few girls who have been consistently in the medals in the last year or so, including the Dutch girl, Marit Bouwmeester, Belgium's Evie Van Acker and, Lijia Xu, the Chinese Beijing 2008 bronze medallist, who's been in good form this year.
"But I'm improving all the time. This year I've come fourth at the Worlds and won Sail for Gold but I'm still moving forward, still progressing and becoming more of an all-rounder and Weymouth is an all-round venue. I've got as good a chance as anybody. Somebody's got to win and I don't see any reason why it couldn't be me."