Goody says he's ready
Paul Goodison admits he is desperate to repeat his Beijing 2008 heroics with a gold medal-winning performance on home waters in front of his parents, as he gets his London 2012 campaign underway on Monday.
Defending Laser class champion Goodison, 34, is one of three classes that start racing on day two of the Olympic Regatta with debutant Alison Young in the Laser Radial and the 49er duo of Stevie Morrison and Ben Rhodes, the other two.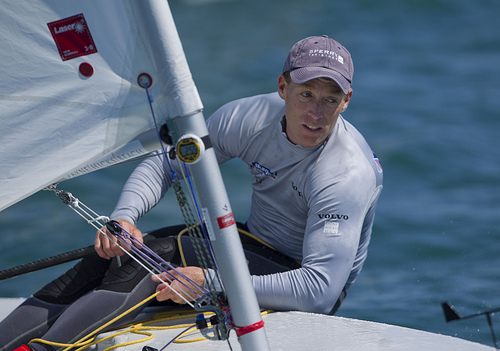 © RYA : Paul Goodison
Only Goodison's mum, Cynthia, made it out to China to see his first Olympic crown with a clinical display in the men's one-person dinghy class four years ago. But this time around his dad Roy, as well as several other members of the Goodison clan, will be making the trip from South Yorkshire to Weymouth and Portland in Dorset.
Goodison can't wait to start putting four years of toil and meticulous preparation into practice to try to achieve the ultimate goal of home success.
He said: "This campaign really is all about winning in home waters. Mum and Dad came to Athens. Only my Mum made it out to Beijing but they are all going to be in Weymouth shouting for me and I want to do it for them.
"During the medal ceremony [in Beijing] I was looking into the crowd and I couldn't see anything apart from Mum, who was there crying her eyes out, which wasn't helping me at all as I was stood on the podium trying to compose myself! I could just think of my Dad being at home and just wished that he could have been there to share the experience with us all.
"I need to win a gold medal [to be satisfied]. Once you've achieved those heights nothing else is satisfactory. It's going to be a really tough job, there's going to be a lot of competition but I really feel that I can do it."