America's Cup - June 2011
There is no shame in capsizing an AC45 multihull. Now that Russell Coutts has done it, we know that anyone can do it! Within days of the video of Coutts's pitchpole on San Francisco Bay, hundreds of thousands of people had watched it on YouTube and other video sharing sites. Maybe that's an indication of the America's Cup's potential right there. Formula One is never so exciting as when cars are sliding off the track in the rain, and sailing never makes the headlines until something goes wrong.
Now, if the sailors add helmet cams to their protective headwear, we can get yet another perspective on these crashes, of which there have already been many and doubtless there will be many more. Coutts fell off the up-ended trampoline and straight through the wing sail and out the other side, pretty much unscathed but with the wing now suffering from a Russell-Coutts-shaped hole in its outer skin. Imagine getting a Coutts-eye view from his helmet cam as he plunges 20 feet down through the wing and into the water.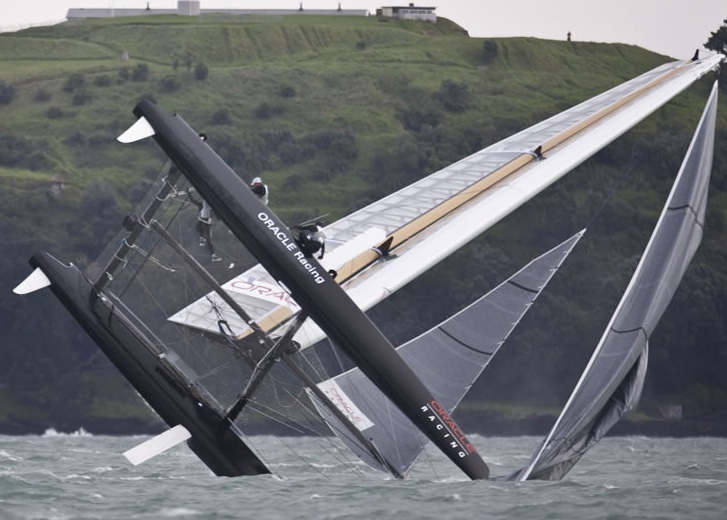 Of course there is danger involved here too, and crew man Shannon Falcone, although he had less far to fall, still injured his ribs in the same crash. Bear in mind these AC45s are still only the 'baby wheels' versions of the larger AC72s yet to come. A fall from an AC72 could be fatal.
Talking of the AC72s, these will now only be brought into action in July 2012, a year before the America's Cup Match is contested. Their competitive debut has been shoved back to allow teams more time to design and develop their race boats. This is but one of a number of concessions to the original schedule as the number of 'real' challengers diminishes by the month. Just a few months ago we were told there would be 14 teams contesting the next Cup, but a number of those have fallen by the wayside already, not least the Challenger of Record that signed up to the Defender's terms, Mascalzone Latino. We're still waiting to hear who will be the replacement Challenger of Record, by the way.
Not that it's all doom and gloom, not by any means. For the forthcoming America's Cup World Series, with the first event in Cascais, Portugal, in early August, the following teams are down to compete in the AC45s:
Oracle Racing (USA)
Artemis (Sweden)
Emirates Team New Zealand (New Zealand)
Team China (China)
Korea (Korea)
Venezia Challenge (Italy)
Aleph (France)
Team Energy (France)
There is also talk of another team being announced at the end of June, with rumours suggesting that Australia is still in play.
But how many of these teams have actually put down hard cash to purchase their own AC45, part of the original requirement of being a challenger? The $700,000 required to buy one is not a lot in Cup terms, but still the only three teams being considered as serious contenders are Oracle, Artemis and the Kiwis. Team China also looks increasingly credible, although it drops off rapidly after that.
Coutts wants to broaden the appeal of the America's Cup to a much bigger audience, and the evidence of his smash hit capsize on YouTube suggests that he's on to something with these crazy catamarans. But the high cost and short time frame do not sit happily against the back drop of a global economic slump that seems to drag on and on.
Part of Coutts must be thinking, 'you know what? Let's blow the AC72s and just run with the AC45s for the America's Cup!' He'd certainly get more teams that way. But for the America's Cup purists who argue that the Cup is primarily a design race, to stage the Cup in a fleet of one-design multihulls would be the ultimate sacrilege. I don't think Coutts will go that far, but if he does... well, you read it here first!