Nelson's RS600 prevails in survival showdown at the Draycote Dash
505 wins battle of the breeze but RS600 leads the GJW Direct SailJuice Winter Series
With raging storms and lashings of brutal rain flooding parts of England overnight, the conclusion of the Draycote Dash looked uncertain on Sunday morning. With winds blowing in excess of 20 knots at the start of the 100-minute Pursuit Race, some competitors in the slower boats seemed reluctant to get on the water in time for their starts. Brenda Hoult's Laser 4.7 from Hill Head led for the best part of a lap despite having crossed the line some minutes after her allotted start time. Some of the 90-strong handicap fleet stayed ashore, not wanting to risk their boats in the strong breeze skudding across Draycote Water.
But then the wind started to drop quite dramatically, sometimes to below 10 knots, and it was the turn of the Scorpions and Merlin Rockets to take up the battle for the lead. Considering the drop in breeze during the course of the race, the slower handicap boats that started earlier might have been expected to benefit. Yet it was the 505 sailed by Andy Davis and Mike Senior who came through to win the double-points, non-discardable Pursuit Race. This elevated them to 7th overall, but it was a 5th place for Peter Nelson's RS600 that proved sufficient to give him overall victory in the Draycote Dash 2012, the first of six events in the GJW Direct SailJuice Winter Series.
Third place in the Pursuit Race elevated David Hayes and Jonny Ratcliffe's Merlin Rocket to 2nd overall, with Andy Couch's Phantom in 3rd place, just edging out another Merlin (Matt Biggs & John Hackett) and Ian Morgan's Laser from the podium.
And so for the time being, Peter Nelson holds the lead in the GJW Direct SailJuice Winter Series, with the next event on 27 December, the Brass Monkey at Yorkshire Dales Sailing Club. Some competitors were rewarded for entering the series early, with Laser 2000 sailor Matt Sargeant winning a signed copy of Asymmetric Sailing by Andy Rice, and former SailJuice Winter Series winner Olly Turner winning some Gul winter gear.
There are further prizes up for grabs for those who enter before 20 December. With seven different classes in the top 10, early indications from the Draycote Dash is that the Great Lakes handicapping system is producing some of the fairest racing yet seen in UK handicap dinghy racing.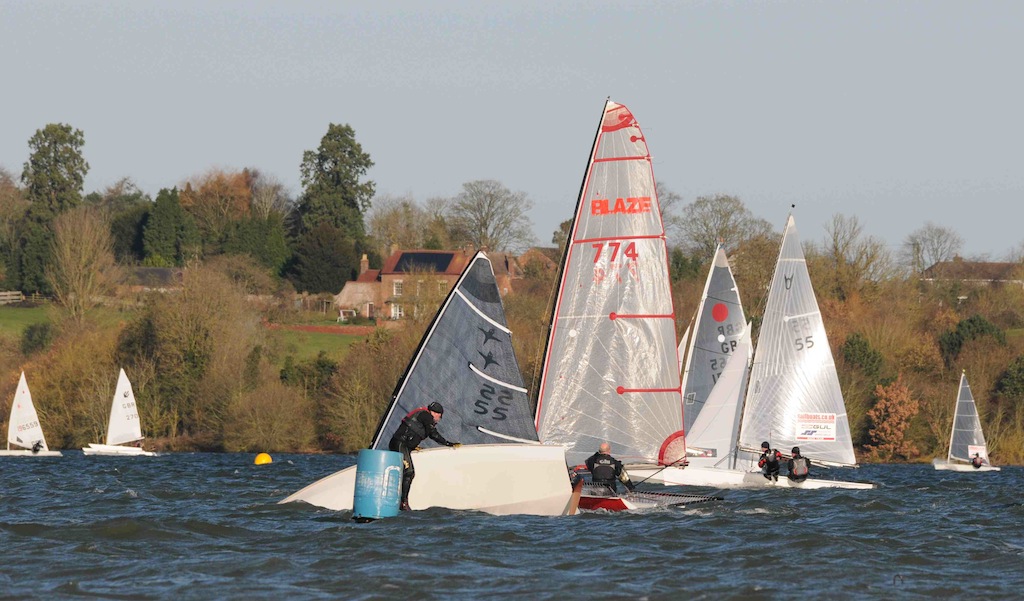 © Malcolm Lewin: Draycote Dash
What is the GJW Direct SailJuice Winter Series?
The Series incorporates these six big winter events, with competitors counting their best four scores, one of which must be the Tiger Trophy:
The Series incorporates these six big winter events, with competitors counting their best four scores, one of which must be the Tiger Trophy:
Draycote Dash, Draycote Water Sailing Club - Saturday 24th & Sunday 25th November 2012
Brass Monkey, Yorkshire Dales Sailing Club - Thursday 27th December 2012
Grafham Grand Prix, Grafham Water Sailing Club - Sunday 30th December 2012
Bloody Mary, Queen Mary Sailing Club - Saturday 12th January 2013
Steve Nicholson Trophy, Northampton Sailing Club - Saturday 26th January 2013
John Merricks Tiger Trophy, Rutland Sailing Club - Saturday 2nd & Sunday 3rd February 2013
There are prizes up for grabs for early entry via the Series website at www.sailjuiceseries.com. Anyone who has entered three or more events by 20 December could win some great Gul winter gear. We're also offering a bunch of prizes that are open to competitors but spectators and armchair followers too. We're offering prizes for the best online media contributions, whether they be photos via Flickr, videos through YouTube, or tweeting or blogging through the Series Facebook page. Share your experiences and you could win some great Overboard waterproof cases for your tech (iPads, mobiles and cameras)... http://events.sailracer.org/eventsites/content.asp?id=20448&eventid=51516
Some classes have adopted the Series as their own class winter travellers' series, and for the class that does the best promotion of the Series, there's the chance to win an OverBoard waterproof bag for your tech (mobile, camera or iPad) - great for live reporting at your events.
In addition to title sponsor GJW Direct Insurance (www.gjwdirect.co.uk/dinghy), the UK's largest direct boat insurer, our silver-level sponsors are: Gul - Experts in Performance Apparel http://www.gul.com/ Trident - The Dinghy & Yacht Shop on the Web http://www.tridentuk.com/ Overboard - The Leaders in Waterproof Bags & Cases http://www.over-board.co.uk/ and we also have prizes from one of the Series' longest-standing supporters: Holt, renowned for their dinghy and catamaran marine hardware. SailRacer was there at the Draycote Dash for live reporting of all the action, and will be covering other events live so you can follow the racing from home.

Find out more about the Series here: www.SailJuiceSeries.com