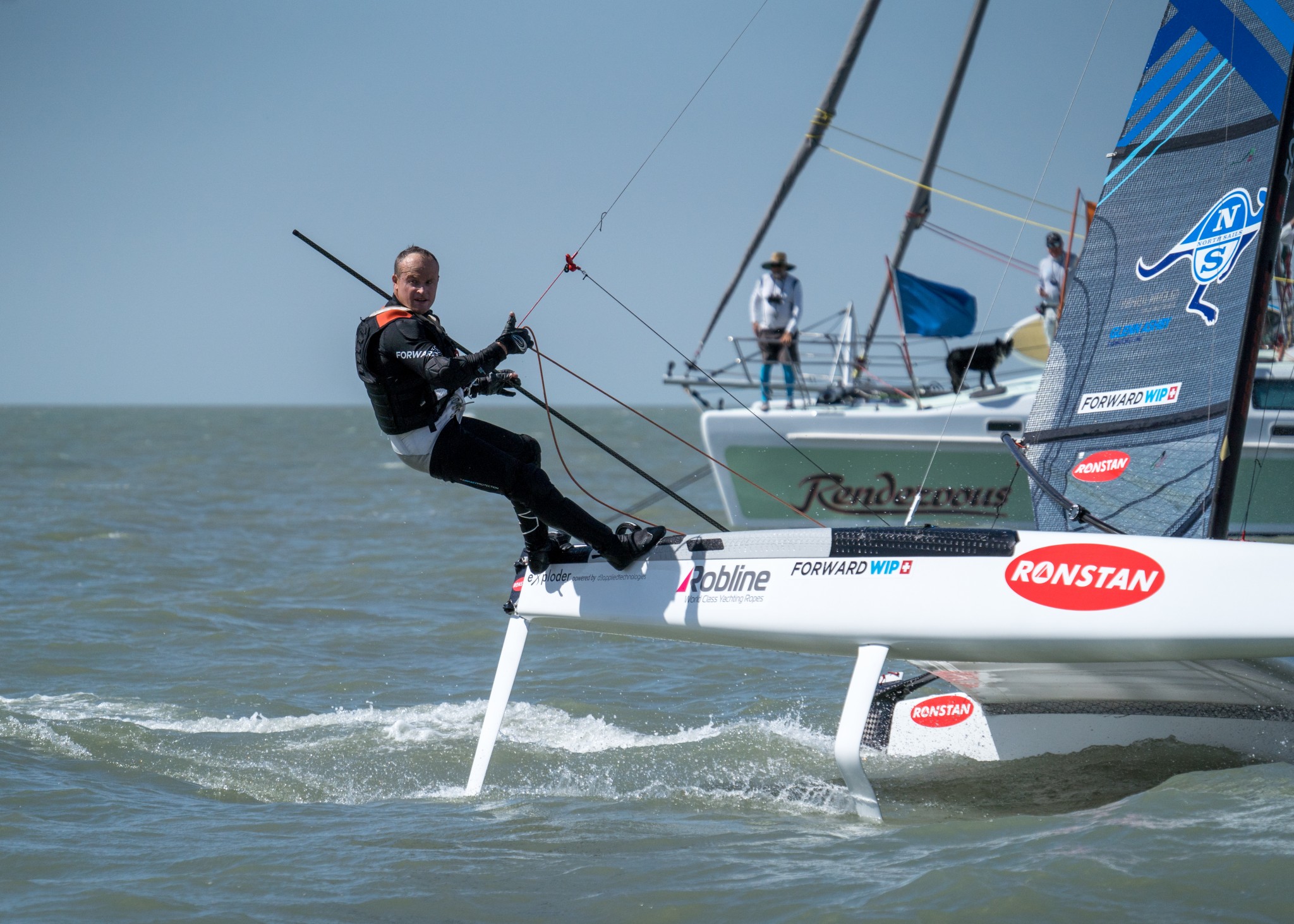 Emirates Team New Zealand's Glenn Ashby has won his 10th A-Class Catamaran World Championship in Hervey Bay, Queensland comfortably taking out the event by 9 points over second placed Dutchman Mischa Heemskerk (18 points)
Emirates Team New Zealand team mates Blair Tuke (24 points) and Peter Burling (26 points) pushed hard sailing consistently at the front of the fleet, along with Ashby, finishing 3rd and 4th respectively overall in the event with at least a dozen Olympians in the fleet.
After a two day delay in racing due to excessive winds for the foiling A-Class boats Ashby's consistency continued with a 3rd & 1st in the first two races on the final day, ensuring he had the World title in the bag once again before sailing the last race of the day. Which, in typical fashion, Ashby won with Burling and Tuke close behind crossing the line in 2nd and 3rd.
Ashby, who dominated the fleet due to a combination of experience, boat setup, pace and boat handling skills, won the Worlds with 6 bullets out of 9 races.
The three Emirates Team New Zealand sailors have been training and testing their boats in McRae, Victoria, Glenn's hometown during November, prior to the move north to Queensland for the Worlds.
The A-Class Catamarans are an attractive class for the world-beating trio from Emirates Team New Zealand. It is a development class of boat, where innovation and design continue to drive the standard and lessons of what makes a foiling boat fast, all of which will relate to the development of the new foiling AC75 America's Cup boats.
A point of difference between Emirates Team New Zealand sailors and a lot of the fleet was the different rake angle they set between windward and leeward rudders.

"We are mimicking what we used to do with the AC50 catamarans in Bermuda" explains Glenn Ashby. "To put more grip on the windward hull (less rake rudder angle) to increase the righting moment and therefore allow the power of the rig to be harnessed to drive the boat faster. On the tack and gybe, we pull the controls exactly the opposite to help the manoeuvre happen faster."

Last week Ashby notched up his 11th Australian National Championship as a warm-up regatta to the world's where he won 6 of the 7 races sailed.

"Of course I'm very happy about winning both the Australian Nationals and the Worlds again. It is obviously an event and a class of boat that is very special to me." continued Ashby.
"What has been really impressive is to see how Pete and Blair have been handling these boats so intuitively after basically four years not sailing them.
I think this month has been fundamental for us to get back into high-performance development boats on a competitive nature but more importantly, collectively as a team moving forward to developing our first AC75 boat and onwards to 2021."
| | |
| --- | --- |
| | |