10 January 2014


With 288 boats from 67 different classes already entered, the Bloody Mary pursuit race is set for another dramatic contest. The fifth event in this season's GJW Direct SailJuice Winter Series, the Bloody Marys of recent years have all been won by boats at the faster end of the spectrum.
Two years ago Jason Belben powered to victory on his foiling Moth and looked set to do so again last year, crossing the finish line in first place but subsequently was disqualified after fellow Moth sailor Rob Greenhalgh protested Belben for missing a mark of the course. Greenhalgh won the protest and therefore won last year's Bloody Mary, to go with his victory in 2008 in an International 14.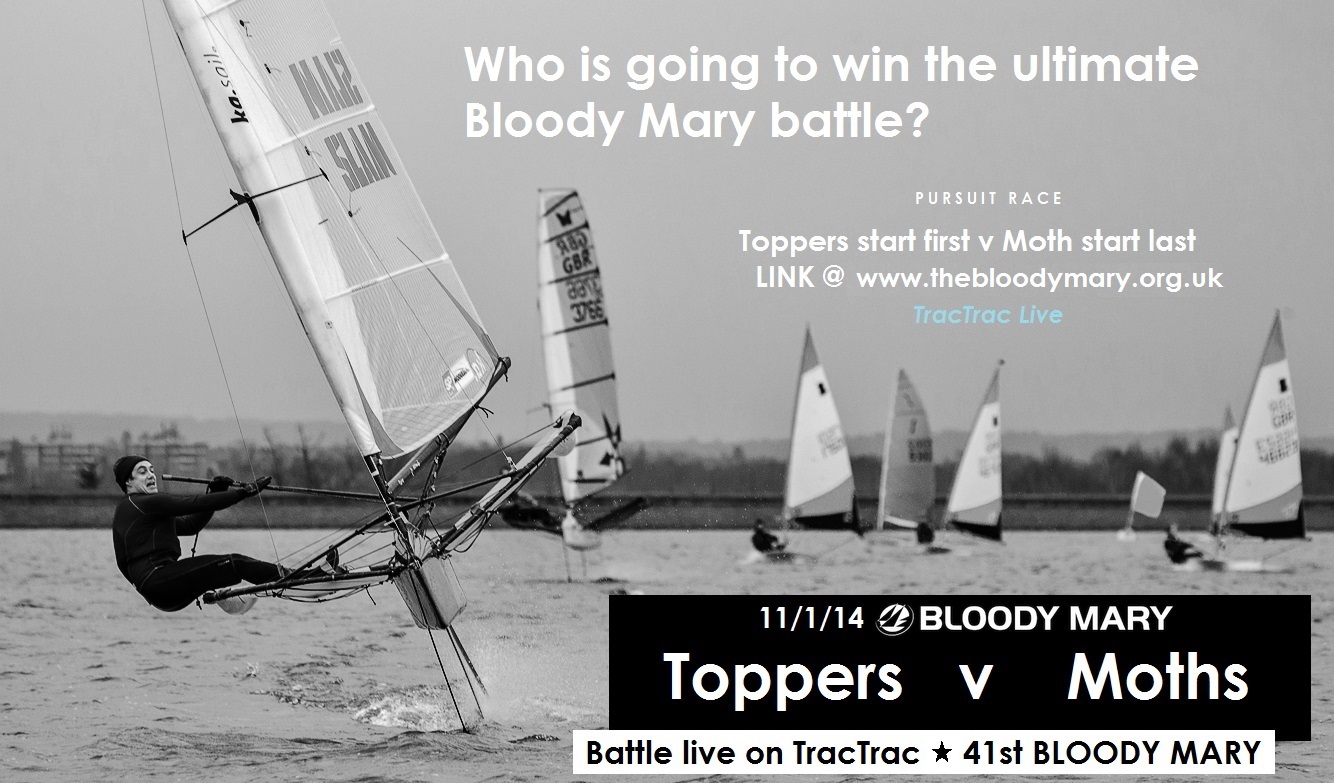 Greenhalgh's name does not appear in the list of entries thus far, although he could still enter on Saturday morning provided he beats the entry deadline of 350 boats before the race starts at midday. Belben, however, is back along with 12 other Moths, one of the biggest class entries. In keeping with the move towards GPS tracking already used at some other events in the GJW Direct SailJuice Winter Series, Queen Mary Sailing Club is tracking the slowest boats in the event - the Toppers - and the fastest - the Moths.
So who will win the battle, Toppers v Moths? Of course, the answer may well be neither, although with a light airs forecast, it doesn't bode well for Belben or any other Moth sailor looking to make 2014 the third consecutive victory for the foiling brigade. When the Moths aren't foiling, they're about the same speed through the water as a Topper. And after Belben and Greenhalgh dominated the event the previous two years, the Moth handicap has been knocked back from 600 to 500.
With live commentary being provided by yachting journalist Malcolm McKeag, and a host of volunteers running a logistically very challenging event, it's well worth visiting Queen Mary Sailing Club for the day, even if you're not racing. The Toppers start at 12pm, with the armada of different classes starting at staggered intervals all the way through to the final starters, the Moths, who set out 95 minutes after the Toppers before the race concludes at 2.30pm.
To find out more about the Bloody Mary, go here:
http://www.thebloodymary.org.uk/