Lucy Mcgregor: on the Olympic campaign trail again
MP3 Audio (11 minutes): Lucy Mcgregor learned her trade crewing for Shirley Robertson in the Yngling during the build-up to the last Olympics. The trials for the British team were at the 2007 Worlds in Cascais and Robertson's crew got the bronze medal. Unfortunately for them Sarah Ayton's team won gold and the trials were over. Now Mcgregor is back on the Olympic campaign trail, this time as skipper of her own match race campaign. SailJuice spoke to Mcgregor at the European Match Racing Championships in Denmark, and the ambitious sailor tells what she learned from sailing with a double Olympic Champion and also looks forward to the next three years until Weymouth 2012...
CLICK ON THE ICON BELOW TO LISTEN TO THE INTERVIEW...
OR CLICK ON THE LINK BELOW TO DOWNLOAD THE MP3 AUDIO FILE TO YOUR DESKTOP
CLICK HERE TO DOWNLOAD LUCY MCGREGOR INTERVIEW...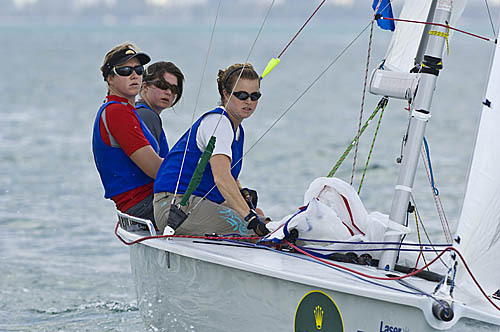 © Dan Nerney/ Rolex