Brazen forecast for this weekend's Brass Monkey
Can Tom Gillard and Richard Anderton use the Yorkshire breeze to seize the lead in the GJW Direct Sailjuice Winter Series?
24 December 2014
It's looking like a windy Brass Monkey is in store for this Saturday's event at Yorkshire Dales Sailing Club. The third event of the GJW Direct Sailjuice Winter Series hit its entry limit a couple of weeks ago, so 100 boats are set for a breezy battle around one of Great Britain's most beautiful sailing venues.
Will the defending champions, Matty and James Lyons, be able to race their 49er to victory in breezier conditions? Or will the 2012 winner Tom Gillard, now racing a 505, be a more likely bet?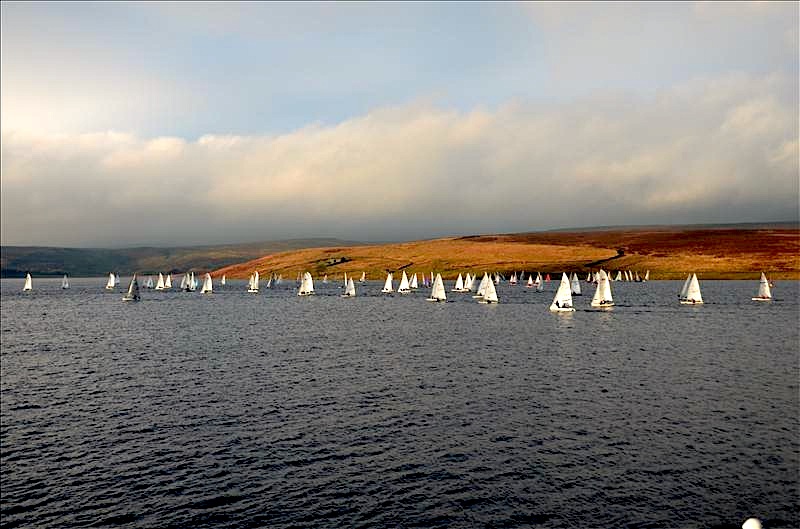 The undercanvassed 420s could be strong, notably Neil Marsden who has won multiple championships in a range of dinghies including Enterprises and Fireballs. Amongst the hiking boats, reigning champion in the GJW Direct Sailjuice Winter Series, Michael Sims will be one to watch in his Solo. And competition will be fierce in the new D-Zero class, which is fielding a strong turn-out for the Brass Monkey.
Meanwhile, the Grafham Grand Prix, which was scheduled to take place this Sunday, has now been postponed until Sunday, 22 February 2015, due to low water levels at the reservoir which have made launch and recovery extremely difficult in recent weeks. Grafham Water SC commented: "We apologise for any inconvenience caused by the rescheduling of the Grafham Grand Prix but overall we think that it's the best thing to do - we look forward to hosting a great event on 22 February."
After the first two events in the GJW Direct Sailjuice Winter Series, multiple Endeavour Champion Nick Craig's Merlin Rocket holds the lead, but in his absence, it sits within Tom Gillard and Richard Anderton's grasp to take the lead if they can capitalise on the strong winds in their 505 this Saturday.
For overall standings after two events: http://events.sailracer.org/eventsites/content.asp?id=39819&eventid=195890&templ=
and to enter other events in the Series: http://www.SailJuiceSeries.com
PRIZES FOR COMPETITORS, CLASSES & SPECTATORS
Thanks to generous support from Series sponsors, we have some great prizes for competitors, and also for spectators and photographers. More details to follow in the coming weeks...
In addition to title sponsor GJW Direct Insurance (www.gjwdirect.co.uk/dinghy), the UK's largest direct boat insurer, our silver-level sponsors are:
Gul - Experts in Performance Apparel www.gul.com
Trident - The Dinghy & Yacht Shop on the Web www.tridentuk.com
Overboard - The Leaders in Waterproof Bags & Cases www.over-board.co.uk
Lennon Sails - A new brand with a great heritage www.lennonsails.com
ENTER NOW!
Enter the Series here www.SailJuiceSeries.com
The website will tell you more about the events in the Series, more about the Great Lakes handicapping process, and we'll keep you updated on everything else you need to know.