29 December 2014
Dire forecasts of drifting snow put off quite a few of the 112 competitors who'd registered for the Brass Monkey at Yorkshire Dales SC. Nonetheless 86 boats made the effort to compete at the third event in the GJW Direct SailJuice Winter Series. They were rewarded by the sight of sun drenched, snow covered hills and a decent 9 knot westerly breeze. Of course, it helped that a small army of club members led by Commodore Phil Whitehead, Ian Craven, Neil Ferguson and many others had gritted the access road the day before.
The fleet was split into three starts using average lap times to accommodate the different boats with last year's winners Matty and James Lyons back to defend their title in a 49er at one end of the spectrum, and Mirrors at the other. Principal Race Officer Ian Escritt got all three starts away without a recall as the spectators topped up their tans on the club's outside deck.
Showing good form early on were the Solo of Michael Sims, plus two Lasers sailed by Oliver Davenport and Kieran Hill. The Lyons brothers in their 49er were flying in the near perfect conditions as was Graham Priestley's Musto Skiff. A gaggle of RS200s, a RS400, a Mirror and a pair of Enterprises all looked capable of the win. Then the wind started to drop – and shifted 30 degrees. At one point, part of the lake had a Force 2 while another had very little. The PRO shortened the race, but was powerless to do more, with some suffering, while others gained. After about 20 minutes the wind filled back in and allowed all to finish – eventually.
It had looked like the 49er was leading anyway, but their win by 2.5 minutes was, as Matty Lyons admitted, a "bit flattering". Second was the RS400 of Chris Pickles & Matt Sharman with Steve Walker & Jerry Hannabuss next in a Scorpion. Eddie & Rachel Grayson headed the competitive RS200 fleet just in front of the two Lasers and Solo who had lost out when the wind dropped. Squeezing between them was Richard Wadsworth's RS700 and Priestley in the Musto Skiff.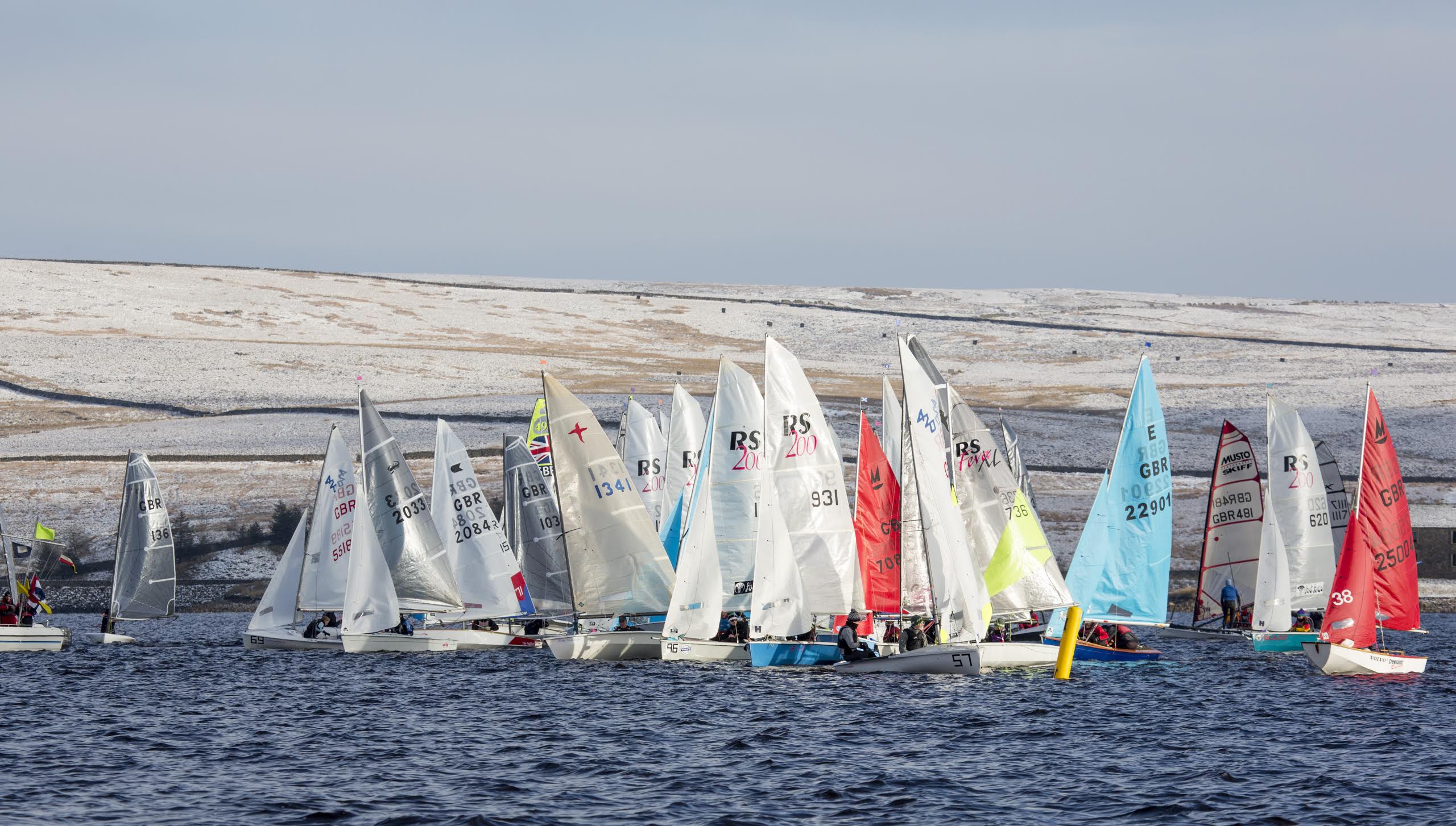 A fabulous hot lunch provided by Rural Recipes was part of the ridiculously low entry fee and after tanks were refuelled, race two was set to go. Sadly the wind wasn't.
Marks were moved to accommodate a 45-90 degree wind shift, but eventually the race got underway in a gentle Force 1. Andy Tunnicliffe must have consumed rocket fuel as he had a big lead over the chasing Lasers, and it was soon obvious that Martin and Tom Penty were making gains in their RS200 as were Pickles' RS400, and Charles & Megan Adams plus Steve Graham & Alan Halliwell in two Enterprises.
The 49er wasn't doing as well, and was the only boat to do an extra lap – in a dying breeze that did them no favours. The Penty RS200 was doing very well, well enough to beat a number of faster boats and they took the race win from Tunnicliffe's Solo (2nd), Walker's Scorpion (3rd) with Pickles grabbing the 4th after a comeback from an average start.
After the two races, there was a tie for first – broken on count back. So the winners of the 2014 Brass Monkey were Chris Pickles & Matt Sharman (RS400) counting 2,4 with Steve Walker & Jerry Hannabuss (Scorpion) counting 3,3 in a very close second place. Final spot on the podium went to Eddie & Rachel Grayson (RS200), beating club rivals Martin & Tom Pentys' 200 by a single point. Michael Sims Solo was 5th with Oliver Davenport and Kieran Hill next in their Lasers. The first Enterprise and 8th overall were Charles & Megan Adams with two more Solos sailed by Andy Tunnicliffe and Chris Robinson completing the top ten.
Prizes were generously sponsored by Neil Pryde with smaller but welcome contributions from Rooster and Gul who sponsored a spot prize for the boat in 47th place as a celebration of their 47 years of providing 'innovative solutions to keeping you warm'. The very surprised but happy recipients of that prize were Peter and Richard Clayton in a Fireball. Steve Walker gave a speech thanking all involved, but especially the safety and race teams who had endured the cold conditions all day and did a fantastic job. The club committee would like to echo that and thank all the volunteers who helped out on the day.
With the postponement of the Grafham Grand Prix to 22 February 2015, the next event in the GJW Direct Sailjuice Winter Series is the Oxford Blue this Saturday, 3 January 2015.
Report by Keith Escritt


For full results: http://events.sailracer.org/eventsites/content.asp?id=39853&eventid=195890&templ= and to enter other events in the Series: http://www.SailJuiceSeries.com


Photo Credit ©: Tim Olin
For more Brass Monkey photos by Tim Olin: https://www.flickr.com/photos/48594582@N05/sets/72157649987411245/


PRIZES FOR COMPETITORS, CLASSES & SPECTATORS
Thanks to generous support from Series sponsors, we have some great prizes for competitors, and also for spectators and photographers. More details to follow in the coming weeks...
In addition to title sponsor GJW Direct Insurance (www.gjwdirect.co.uk/dinghy), the UK's largest direct boat insurer, our silver-level sponsors are:
Gul - Experts in Performance Apparel - www.gul.com
Trident - The Dinghy & Yacht Shop on the Web - www.tridentuk.com
Overboard - The Leaders in Waterproof Bags & Cases - www.over-board.co.uk
Lennon Sails - A new brand with a great heritage - www.lennonsails.com


ENTER NOW!
Enter the Series here: www.SailJuiceSeries.com
The website will tell you more about the events in the Series, more about the Great Lakes handicapping process, and we'll keep you updated on everything else you need to know.