When the going got tough, the Brits got going in the Route du Rhum. The storm in the North Atlantic ripped the heart out of the fleet of 59 assorted yachts that departed St Malo on 10 November. Barely half the fleet made it across the finish line in Guadeloupe, and the first two to get there were the Brits battling it out in the 60-foot monohull division. Ellen MacArthur eventually finished a comfortable nine hours ahead of Mike Golding, who had blown up both of his gennakers in the latter stages of their duel.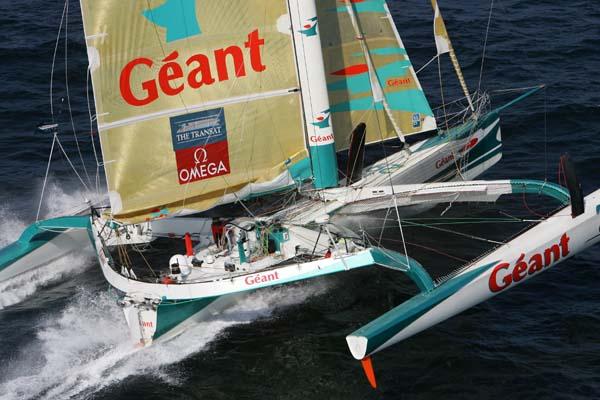 Not only had MacArthur smashed the monohull course record with a time of 13 days, 13 hours and 31 minutes - more than two days faster than previous holder Yves Parlier's time of 15 days, 19 hours and 23 minutes set in 1994 - she and Golding reached Guadeloupe ahead of the decimated multihull fleet. Fair enough, the multihulls started 24 hours behind the monohulls, but winner Michel Desjoyeaux only managed a time of 13 days, 7 hours, 53 minutes, less than six hours quicker than MacArthur. Not that 'Le Professeur' would have cared. He was grateful just to finish, let alone win the multihull division.
At the finish he made no apologies for his conservative strategy: "We have long known that to win in technical sports you first have to finish. And my ambition, from the start was to cross the finish line. We should not forget that on an unfortunate mistake another competitor gave away his position. Stève [Ravussin] was two days ahead of the rest of us and charged harder and it is true that I could have had a faster pace, but the essential thing was first to arrive in Guadeloupe."
How true his words proved. The Swiss sailor Ravussin was leading the multihulls by two days before disaster struck TechnoMarine just 734 miles from the finish. Ravussin explained the incident as follows: "I had less than 15 knots of wind, under gennaker and one reef when I went to have a rest. I was woken when I felt the boat accelerate in a squall. I pulled out the gennaker sheet, which I had led down below, but it was too late. The floats had already ploughed in. With the inertia of the mast, everything was going very quickly. The boat capsized stern over bow. At this moment I was on the point of getting out of the cockpit and I suddenly found myself with my head underwater but protected by the hood...When everything is reduced to nothingness you have to ask yourself if you would do the same thing tomorrow."
While no one would wish calamity upon the hapless Ravussin, there must have been a collective French sigh of relief that they might now at least win one of the main divisions in their own race. Desjoyeaux could barely believe his luck to be handed the lead in the trimarans, not that there was too much competition remaining at that point. Of the 18 starters, just three made it upright and in one piece to Guadeloupe - yes, three - just about enough to fill a winner's podium. Second place went to Marc Guillemot aboard Biscuits La Trinitaine-Ethypharm, and third and last place to Lalou Roucayrol sailing Banque Populaire.
Desjoyeaux's route to victory was a triumph of perseverance. The Vendée Globe winner's chances of even making the start line were dealt a serious blow when the mast of his trimaran Géant came crashing down in August off the coast of Brittany. After a manic two and a half months getting shipshape once more, he became the last competitor to complete his 1,000 mile qualification run in very rough conditions.
A hastily patched-up Géant charged across the start line on 10 November with 17 other trimarans. A day later, however, he was back in port - Bertheaume this time - to resolve some autopilot problems and to replace the mainsail battens which had already broken in the severe conditions. Perhaps this enforced pit stop was a blessing in disguise. It at least afforded Le Professeur the opportunity to avoid the havoc that the heavy depression "Sylvia" was wreaking on the front runners, including Franck Cammas' capsize while leading the fleet aboard Groupama.
Desjoyeaux opted for a longer route north, meaning he escaped the 80 knots of wind that buffeted the likes of Loick Peyron and Yvan Bourgnon. The worst Géant experienced was 40-45 knots, although that was bad enough, forcing him to pit stop at an island near Madeira so that his shore crew could patch up some boat-threatening structural damage.

CLICK HERE TO FIND OUT WHAT HAPPENS IN PART 2....