CONTINUED FROM PART 1...
Heading out into the Atlantic 15 hours later, Desjoyeaux surely had little more in mind than getting to Guadeloupe in one piece. But little was anyone to realise that the demolition derby was only half way through. With five capsizes and numerous retirements - not to mention the complete disintegration of Peyron's Fujifilm - the outcome of this race was proving about as predictable as the Grand National at Aintree.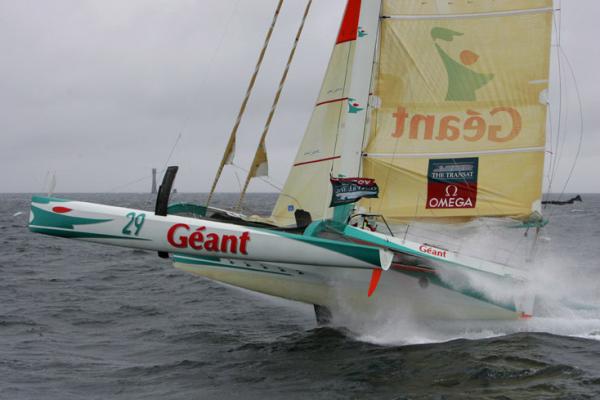 As the finish came into view, however, Desjoyeaux cast caution to the wind for a final blast across the line. "It is really excellent to finish at 30 knots in the bay of Pointe à Pitre. Solo, it's full on, but I wanted to give this moment to all the people who came out here to greet me. These boats are really fantastic." Both Desjoyeaux and MacArthur - first and second respectively in last year's Vendee - claimed this race had been harder than their round-the-world adventure. Whether or not it was the emotion of the moment talking is hard to say, but the chances are they meant it.
Speaking just minutes after setting foot ashore to be met by a tumultuous crowd, an effusive MacArthur commented: "That was one hell of a race. The stress levels were hardly ever below maximum. I could not have given any more, the intensity has been extraordinary. I cannot say that that was easier than a Vendée, it has taken every ounce of mental and physical energy that I possess. Mike [Golding] sailed a fantastic race, pushed us both to our limits and beyond - I am disappointed for him, but of course elated to have to held on to the lead."
Golding for his part seemed relieved to have banished the ghost of failures past, such as the running aground off New Zealand while leading the Around Alone, and his dismasting just hours after the start of the Vendée Globe. It was still frustrating for him to have conceded a relatively comfortable victory to his younger and more famous compatriot, after the destruction of both his spinnakers spelt an end to his fascinating and tense dogfight with MacArthur.
In fact it was a good race for pretty much all the English-speaking competitors in this French-dominated race. Nick Moloney, the Isle-of-Wight-based Australian, made the Route du Rhum a double celebration for Mark Turner and Offshore Challenges, the company which manages Ellen's and Moloney's careers. Racing the Open 50 Ashfield Healthcare in the Class 2 monohulls, Moloney resisted the temptation to match Yannick Bestaven's searing pace in the opening hours of the race. Bestaven's relentless pace aboard République Dominicaine proved his undoing, as Moloney explained: "I thought if I kept pushing I'd break the boat, but he kept pushing and four hours later he was out of the race. That was a little bit of luck in my favour and bad luck at his end. If we both kept pushing as hard as we were then one of us would go down and fortunately for me it was him."
Moloney sliced nearly two days off the Class 2 course record, set four years ago by a then virtually unknown Ellen MacArthur. Now the Australian continues to follow the footsteps of La Petite Anglaise with his assault on the next Vendée Globe Race, as does Britain's Miranda Merron, who finished 8th in the Open 60s aboard Un Univers de Services, one place ahead of Canadian Mike Birch on Tir Groupé/Montres Yema. Being 71-years-old appears to have done nothing to diminish his appetite for the Route du Rhum, Birch holding the extraordinary record of having won the inaugural race in 1978 and competed in every subsequent edition of this four-yearly event. MacArthur receives a good deal of praise from many quarters these days, but she will take special pride from Birch's assessment of her talents. "The reason for Ellen's success is that for the first time in sailing someone has a manager and Mark Turner is very good, the crew is very good and Ellen is the best."