Since winning Olympic gold in the Men's Skiff – 49er at Rio 2016 five years ago, Pete Burling and Blair Tuke (NZL) have packed a whole lifetime of sailing achievement into their busy careers.
In 2017 Burling steered Emirates Team New Zealand's foiling catamaran to victory at the America's Cup in Bermuda, with Tuke further forward running the flight control for his best mate. A year later they were pitched against each other on rival boats in their first round-the-world adventure. Coming into the finish of the final leg of that year-long marathon called the Volvo Ocean Race, Burling or Tuke looked set to emerge as first time winners of the race, before being pipped by the other boat, the Chinese, in a three-way, last-gasp battle for victory.
Earlier this year Burling and Tuke were again right at the core of New Zealand's successful defence of the America's Cup. This was meant to have happened after the Tokyo 2020 Games, but with the year's postponement, the Kiwis had to hop straight off their multimillion dollar foiling AC75 spaceship and reacquaint themselves with the somewhat more affordable, simpler pleasures of 49er racing.
Despite the distractions of the Volvo Ocean Race, two America's Cup campaigns, and more recently the SailGP circuit, the six-time World Champions still start as favourites for 49er gold in Tokyo.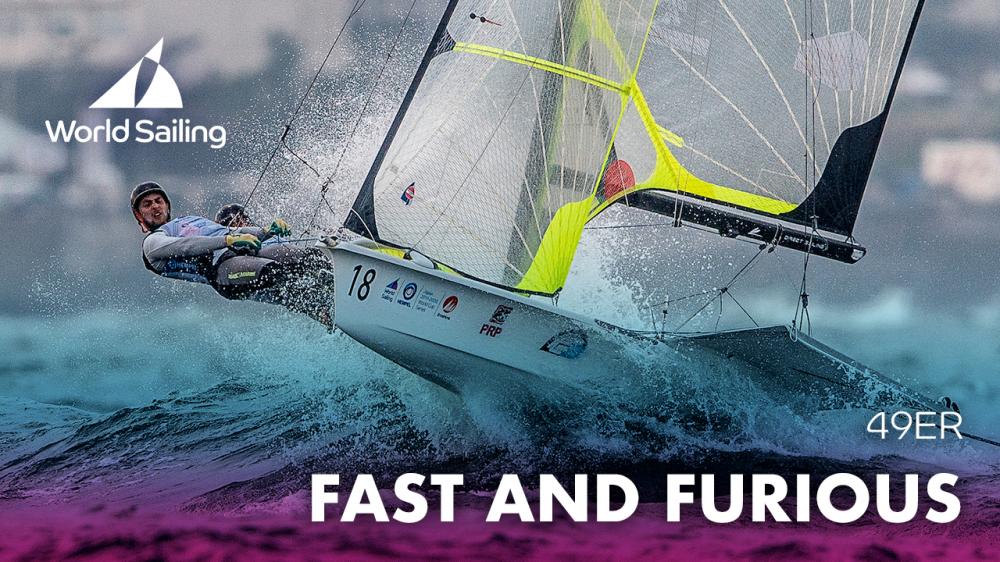 Among the challengers to the Kiwi crown are the bronze medallists from Rio 2016, Erik Heil and Tommy Ploessel (GER) who always turn it on for the big occasion. Despite taking time out from their campaign, they scored second at the 2019 Worlds and third at the 2020 Worlds. Now in their early 30s, Heil and Ploessel feel ready for another life-defining performance in Tokyo.
"We want to win a medal again," said Heil, "preferably in an even more beautiful colour than last time."
Medical student Heil and mechanical engineering graduate Ploessel ran the Kiwis close for the 2019 world title in Auckland. "We have come closer to them, closer than ever before," Heil remarked at the time.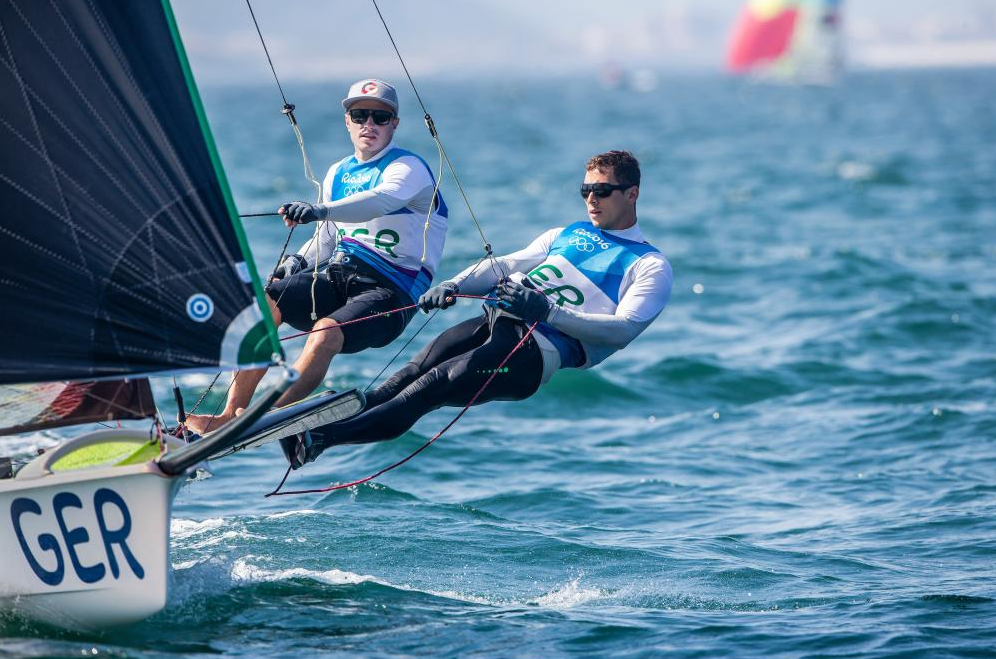 In with a shout of a medal at the end of Rio 2016 was Great Britain's Dylan Fletcher who, crewed by Alain Sign, ended up sixth overall. Fletcher has since teamed up with Stu Bithell, Olympic silver medallist in the 470 at London 2012. Fletcher is focused, sometimes spiky, while Bithell appears to be the entertainer but is far more than that. From being rivals they have become good mates and have strung together some good results over the past four years, including victory at the 2017 World and European Championships.
However, in 2017 Burling and Tuke were absent from the 49er as they raced their way round the world in the Volvo Ocean Race. Fletcher and Bithell haven't beaten the Kiwis at a World Championship, so do they have the self-belief to take away the Olympic crown from their feted rivals?
Bithell admits the duo are "super tough competition".
"We're up against perhaps the most successful sailing team in the world – they are formidable together," he expressed. "I like to put a positive spin on things and say it creates an opportunity for us to go out and beat the best team in the world."
Spain's Diego Botin and Iago Marra have spent the last few years chipping away at the front of the 49er fleet, gradually improving their scores season by season. The Spanish team were fourth at the 2019 Worlds and runners-up in 2020 to their regular training partners Burling and Tuke, who they know probably better than anyone in the Olympic fleet.
The Beijing 2008 Olympic Champion Jonas Warrer is back representing Denmark, crewed by Jakob Precht Jensen. In 2008, even Warrer would admit he used more than his fair share of fortune to clinch gold in the most extraordinary and controversial of circumstances. Contrary to predictions of a windless Beijing, the 49er Medal Race that year proved extremely breezy and enormously wavy, and everyone was unprepared and underweight for those heinous conditions.
"I was sailing before the start with my crew Martin Kirketerp," Warrer recalls. "We broke the mast half a minute after hoisting the spinnaker. We thought our regatta was over but we rushed ashore and the Croatians lent us their boat for the race." There's much more to that incredible story, but the story now is can the 42-year-old repeat gold, 13 years on?
Warrer knows what it's like to finish first, and he knows how it feels to finish fourth, his position at Rio 2016. "I had a break from sailing after Rio, but I think my idea was to do another Olympics. I know what it's like to be in the medals and to be out of the medals. Winning a medal is more fun."
Warrer's crew Jensen is hoping the spirit of 2008 returns to carry them to victory.
"Leading the regatta, breaking a mast and winning a medal, let's do that again," jokes Jensen about his helmsman's streak of Beijing luck. "Of course we want to come away from Tokyo with a medal and if it's made of gold, even better."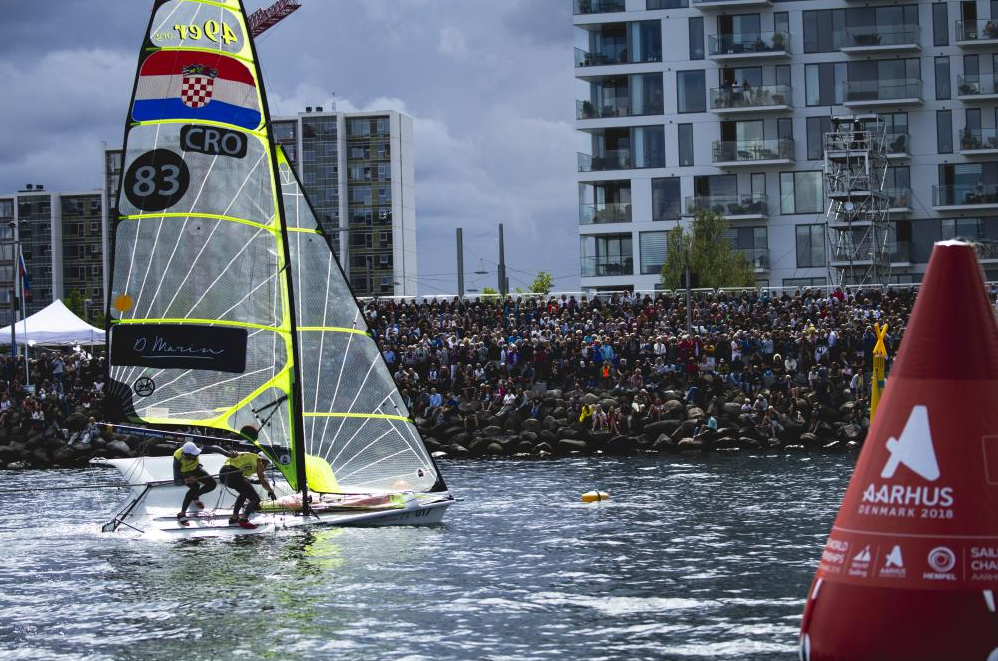 Sime Fantela became the first sailor to win a sailing gold medal for Croatia in the 470 class five years ago in Rio. Teaming up with his brother Mihovil, Sime made a rapid and successful switch to the 49er. The brothers won the 2018 World Championship after just 18 months in this demanding class. They're probably an outside bet for the 49er podium, but Sime is a wily competitor who's unlikely to be intimidated by the occasion.
Another couple of brothers to watch out for, particularly if the breeze and the big waves kick in, are first-time Olympians Will and Sam Phillips racing for Australia. Following in the wake of the London 2012 gold medallists and Rio 2016 silver medallists, Nathan Outteridge and Iain Jensen, the Aussie siblings have big footloops to fill, but a recent big wave training session on the Queensland coast with Burling and Tuke should stand them in good stead for the Pacific swell of Enoshima.
Others to watch include Austria's Benjamin Bildstein and David Hussl, who have a very good record on Olympic waters with the high point being a silver medal at the Hempel World Cup Series Enoshima two years ago. They were bronze medallists at the 2017 Worlds, with sixth in 2019 and fourth in 2020, very consistent scores that make the Austrians a real threat for the podium.
The fast improving Dutch team of Bart Lambriex and Pim van Vugt are starting to look like the real deal, regularly finishing in the top six of major events.
Ireland's Sean Waddilove and Rob Dickson probably wouldn't have made it to Tokyo if it had taken place in 2020, but this young team made the most of winter training in southern Europe to really show that they mean business. The young Irish crew earned the final spot for Tokyo competing at the Lanzarote International Regatta in March, winning their first ever Medal Race at the event and seizing a bronze medal ahead of a world-class fleet.
The 49er fleet features 19-world class teams. They will sail an Opening Series of 12 races, with the first three races scheduled for Tuesday 27 July on the Enoshima course, starting at 1445 JST. Their Medal Race on Monday 2 August will bring their competition to a close.
A full list of competitors is available HERE.