Last year's Steve Nicholson Memorial Trophy was 'apocalyptic', and this Saturday's could be pretty darn windy too....
22 January 2015
The 151 boats entered for the Steve Nicholson Memorial Trophy are looking at a windy forecast for this Saturday's handicap contest at Northampton Sailing Club.
The sixth event of this season's GJW Direct Sailjuice Winter Series (also supported by Gul, Trident, Overboard and Lennon Sails) was booked out a long way in advance, and now the mixed fleet is steeling itself for a strong north-westerly across Pitsford Reservoir this weekend. After a light-airs start to the winter, with the slower-handicap boats benefiting from the softer breeze, the recent, near-gale-force Bloody Mary paid dividends for the faster boats, notably the Fireballs.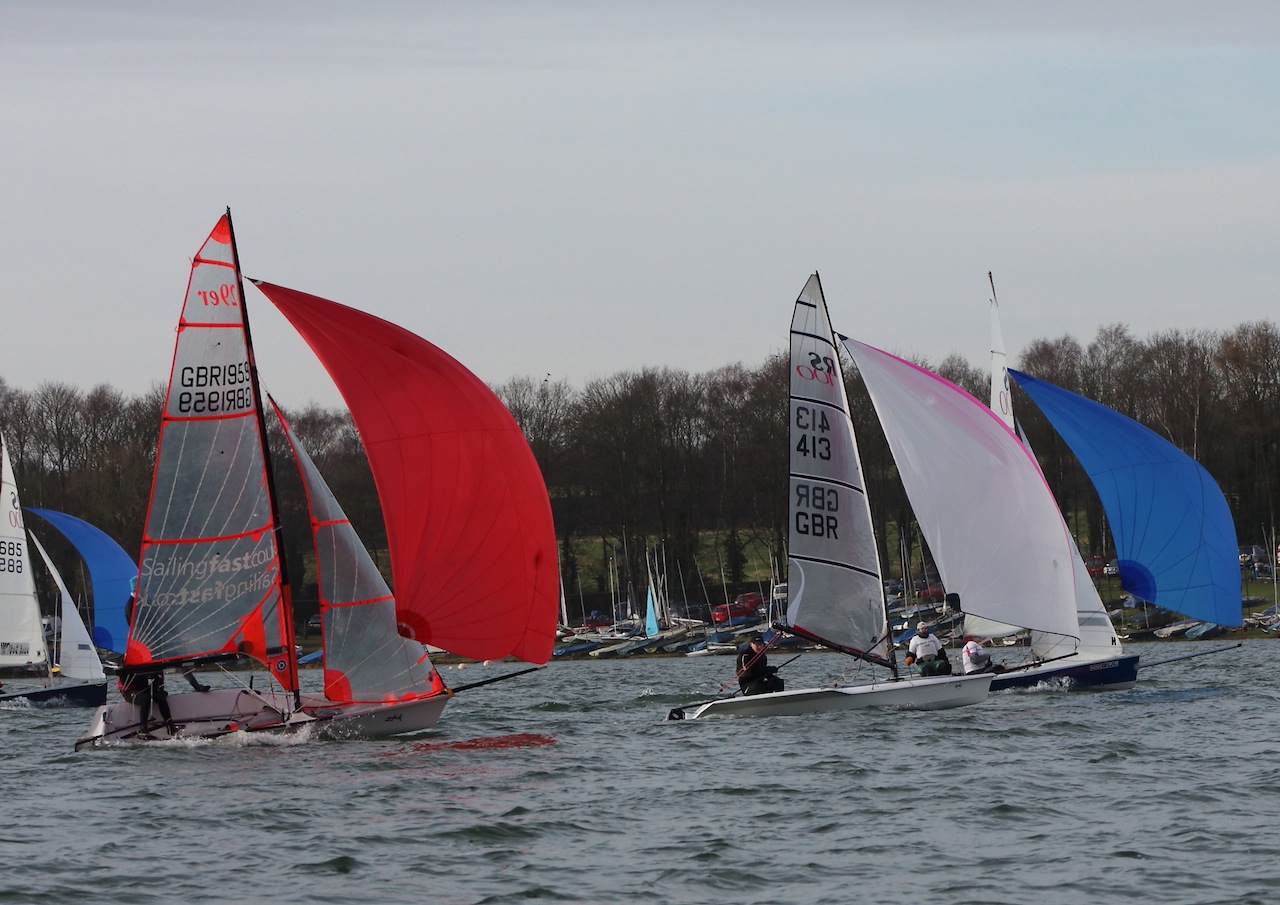 Winners of the Bloody Mary in their Fireball, Tom Gillard and Richard Anderton, are back in their repaired 505 for the Steve Nicholson. But on the confined waters of Pitsford, they will find it tough to hold back the Fireballs. Last year Anderton won this event crewing for Christian Birrell, but now he's up against - amongst other top 'Ballers - Birrell and his crew Sam Brearey, who have since become the reigning Fireball World Champions.
If the breeze does arrive, this is an event that could really suit the strong turnout of Contenders, not least Stuart Jones who finished an impressive 4th place at the Bloody Mary two weekends ago. Local RS600 expert, Anthony 'Chunky' York, will also be one to watch.
There are plenty of big names in the singlehanders, both in the Phantom and OK class, with last year's winner Charlie Cumbley facing stiff OK competition from Jim Hunt and former world champion Nick Craig. Recently retired from 49er FX campaigning, Frances Peters will be competing in the RS Aero fleet.
In the separate gennaker division, Ben Schooling is back to see if he can repeat his survival victory from last year's war of asymmetric attrition.
SailRacer will be on-site covering the event with live GPS tracking and online commentary, viewable at: www.sailjuiceseries.com
For results in the GJW Direct Sailjuice Winter Series after five events: http://events.sailracer.org/eventsites/content.asp?id=39820&eventid=195890


PRIZES FOR COMPETITORS, CLASSES & SPECTATORS
Thanks to generous support from Series sponsors, we have some great prizes for competitors, and also for spectators and photographers. More details to follow in the coming weeks...
In addition to title sponsor GJW Direct Insurance ( www.gjwdirect.co.uk/dinghy ), the UK's largest direct boat insurer, our silver-level sponsors are:
Gul - Experts in Performance Apparel www.gul.com
Trident - The Dinghy & Yacht Shop on the Web www.tridentuk.com
Overboard - The Leaders in Waterproof Bags & Cases www.over-board.co.uk
Lennon Sails - A new brand with a great heritage www.lennonsails.com

ENTER NOW!
Enter the Series here www.SailJuiceSeries.com
The website will tell you more about the events in the Series, more about the Great Lakes handicapping process, and we'll keep you updated on everything else you need to know.