A big breeze forecast failed to put off 161 entries at the Steve Nicholson Trophy, where Will Gulliver's Phantom beat the 80-boat singlehanded fleet....
27 January 2015
The sun shone brightly and the wind blew for Northampton Sailing Club's Steve Nicholson Trophy, giving competitors an exciting ride. The event is part of the GJW Direct Sailjuice Winter Series, but also is generously sponsored by P&B, Harken, Gill, Gul and Zhik, ensuring some of the finest prizes at any sailing event are awarded to those that do well.
The unprecedented singlehanded entry led to a late change of format with the asymmetrics joining in with the doublehanders.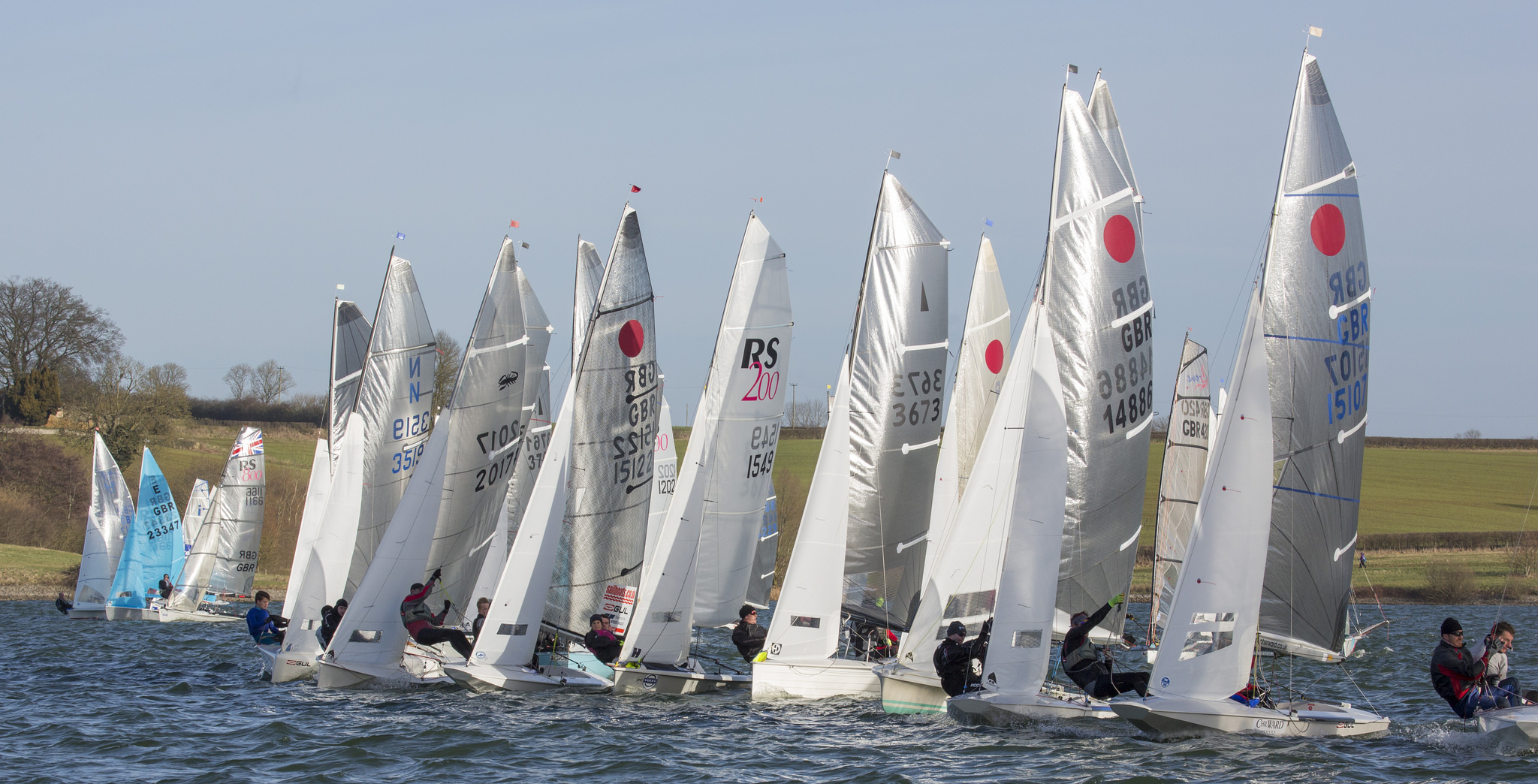 The spectators from the sheltered club house, got an idea of the puffy conditions as many of the early launchers shot off downwind in a cloud of spray to the leeward end of a trapezoid course.
The fleet of 80 singlehanders went first, Contender supremo Stuart Jones was loving the tricky gusty stuff and shot into a big lead. Local RS600 star Anthony York eventually pulled through but only the Blaze of National Champ, Ben Pickering could get close to Jones on corrected time. Northampton SC's Phantom stalwart Will Gulliver was showing some cracking speed; not only did he beat multiple National Champ, Andy Couch, he also finished third in the first race on handicap.
The more traditional singlehanders were struggling to sail to their handicaps with the top OKs sailed by the likes of Nick Craig, Charlie Cumbley and Jim Hunt struggling in the teens, and the top Solo sailors doing no better.
In the second race for the singlehanders the breeze had eased a little but the occasional puffs were catching out the unwary. In the Phantoms, Couch was going well but then capsized while under pressure from Gulliver, who went on to win. Stuart Jones was still flying in his Contender but this time had Anthony York to follow. York had to put in an extra lap and probably lost out as the breeze softened.
In the doublehanded fleet John and Ollie Meadowcroft, sailing a National 12, found a great gap to start on port and looked to be 200 yards clear of the fleet after just 30 seconds. They were flying but five faster boats had got to them before the windward mark. With a huge puff on the left, coming in overstood on the port lay line was fast but dangerous and one 49er spent several minutes stuck in irons/on port, causing carnage at the first rounding.
It was without doubt good weather for a Fireball and Ian Dobson, crewed by Dan Schreiber, made the most of it and won both races. In the first race Dave Wade and Ben Rayner in a Merlin were pleased to get far enough away from Tom Jeffcoate and Tom Pygall sailing a Scorpion to claim second place. Wade and Rayner, despite being forced on to port on the start line did well enough in race two to secure second place for the day. The surprise of the day came from Nigel Thomas in a Mirror. With the advantage of clear air, at least shortly after the start, Nigel sailed well to finish 3rd in the fleet.
There were 15 entries in the asymmetric fleet. The RS200s of Tim Saxton & Holly Scott and Ben Palmer & Joanna Freeman had a battle royal in the first race. After three laps they were still so close that the race team couldn't separate them and they were awarded equal second place scoring them 2.5 points each. Tim and Holly went on to win the second race, sadly for them though it was not good enough. Much to their surprise, Sam and John Knight in a RS400 scored a 1st and a 2nd in the series, giving them the victory by 1/2 a point.
John made a lovely prize giving speech explaining how he had just come out for a day's sailing crewing for his son!
Our thanks go to all the competitors and the volunteers who put on a great event and raised a load of money for Asthma UK.
Report by Tom Stewart


RESULTS
Singlehanders
1 Phantom 1435 Will GULLIVER
2 Contender 2465 Stuart JONES
3 Phantom 1345 Andy COUCH
4 Blaze 769 Ben PICKERING

Doublehanders
1 Fireball 15089 Ian DOBSON Dan SCHREIBER
2 Merlin Rocket 3761 Dave Wade Ben Rayner
3 Mirror 70784 Nigel THOMAS
4 Fireball 15122 David HALL Paul CONSTABLE

Asymmetrics
1 RS400 1202 Sam KNIGHT John KNIGHT
2 RS200 1549 Tim SAXTON Holly SCOTT
3 RS200 1350 Ben PALMER Joanna FREEMAN

For full results from the Steve Nicholson Trophy: http://events.sailracer.org/eventsites/content.asp?eventid=195890&id=40002&typp=
For results in the GJW Direct Sailjuice Winter Series after six events: http://events.sailracer.org/eventsites/content.asp?id=39820&eventid=195890


PRIZES FOR COMPETITORS, CLASSES & SPECTATORS
Thanks to generous support from Series sponsors, we have some great prizes for competitors, and also for spectators and photographers.
In addition to title sponsor GJW Direct Insurance ( www.gjwdirect.co.uk/dinghy ), the UK's largest direct boat insurer, our silver-level sponsors are:
Gul - Experts in Performance Apparel www.gul.com
Lennon Sails - A new brand with a great heritage www.lennonsails.com
Overboard - The Leaders in Waterproof Bags & Cases www.over-board.co.uk
Trident - The Dinghy & Yacht Shop on the Web www.tridentuk.com
ENTER NOW!
Enter the Series here www.SailJuiceSeries.com
The website will tell you more about the events in the Series, more about the Great Lakes handicapping process, and we'll keep you updated on everything else you need to know.