Racing his Blaze singlehander, Mike Lyons faces some tough opponents at this Saturday's event on Farmoor Reservoir
30 December 2014
With more than 90 boats already entered for this Saturday's Oxford Blue, the fourth event in this season's GJW Direct Sailjuice Winter Series is shaping up to be one of the most competitive.
Series leader Nick Craig is back with Alan Roberts to compete in his Merlin Rocket. At last January's inaugural Oxford Blue at Farmoor Reservoir, the multiple Endeavour Trophy champion came 3rd in a Devoti D-One singlehander. On that occasion it was Mike Lyons who won a very light airs event in a Blaze, and Lyons is back to defend his title.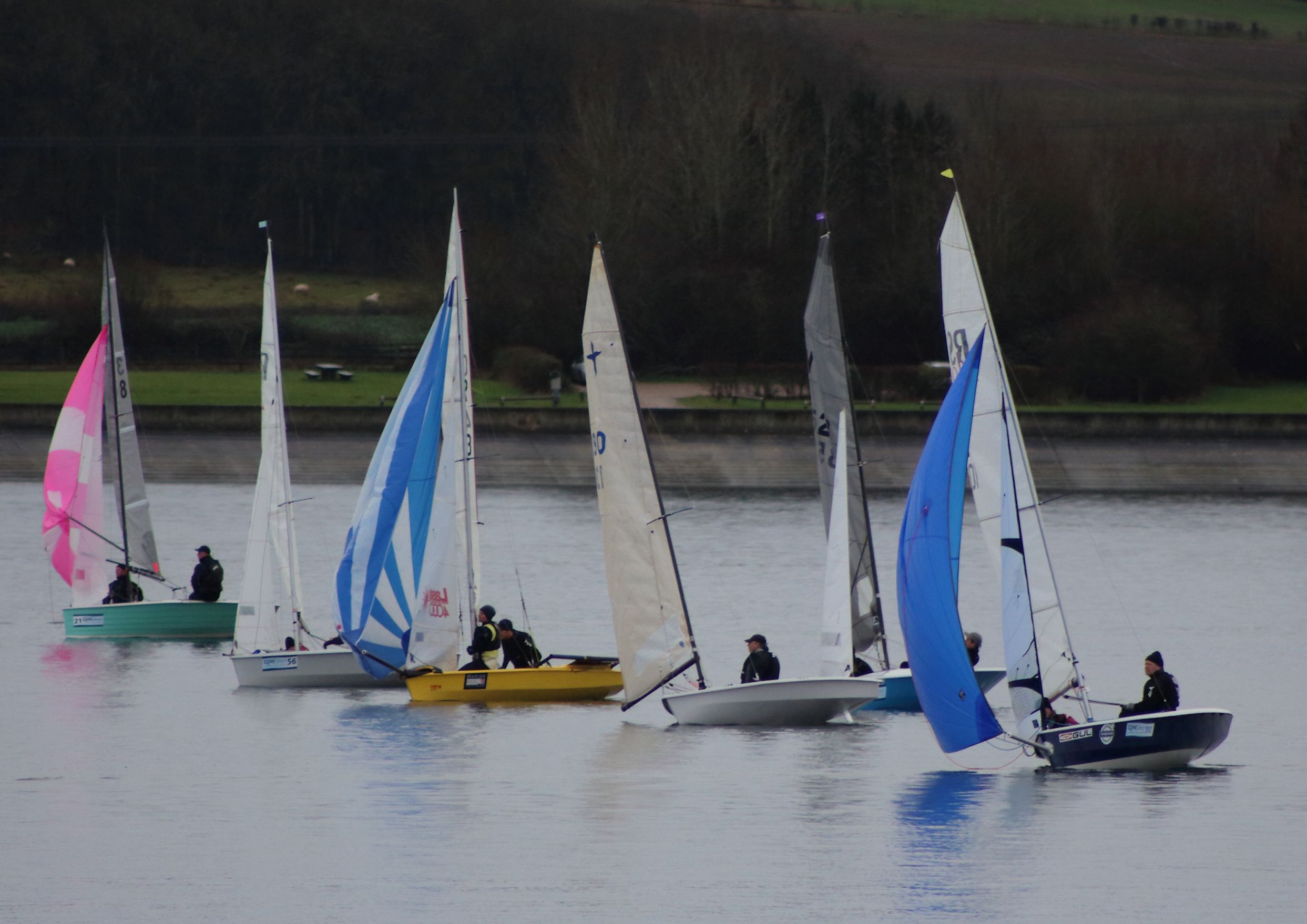 Reigning Laser Masters World Champion Steve Cockerill takes to the water with his wife Sarah in a 4000, and will be among a number of top fast-handicap crews that also include reigning Fireball World Champions Christian Birrell and Sam Brearey, and former Fireball World Champion Tom Gillard sailing with Richard Anderton in a 505.
The Oxford Blue incorporates the RS/Magic Marine RS Aero Winter Championship, and there are almost 20 RS Aeros already entered, with the prospect of close racing against another newcomer to the singlehander scene, the Devoti D-Zero which is also well represented on the entry sheet.
Thames Water have asked competitors to comply with the RYA Check/Clean and Dry Campaign to avoid the spread of alien species, details of which are published on the RYA website:
http://www.rya.org.uk/newsevents/enewsletters/theclubroom/May2011/Pages/CheckCleanDryandrelax.aspx
SailRacer will be running GPS tracking of the racing, which can be viewed live or replayed after racing is completed. With an entry limit of 150, and online entry closing at midnight on Thursday 1 January, there's still time to compete in this Saturday's Oxford Blue.
For results after three events: http://events.sailracer.org/eventsites/content.asp?id=39820&eventid=195890
and to enter other events in the Series: http://www.SailJuiceSeries.com
PRIZES FOR COMPETITORS, CLASSES & SPECTATORS
Thanks to generous support from Series sponsors, we have some great prizes for competitors, and also for spectators and photographers. More details to follow in the coming weeks...
In addition to title sponsor GJW Direct Insurance (www.gjwdirect.co.uk/dinghy), the UK's largest direct boat insurer, our silver-level sponsors are:
Gul - Experts in Performance Apparel www.gul.com
Trident - The Dinghy & Yacht Shop on the Web www.tridentuk.com
Overboard - The Leaders in Waterproof Bags & Cases www.over-board.co.uk
Lennon Sails - A new brand with a great heritage www.lennonsails.com
ENTER NOW!
Enter the Series here www.SailJuiceSeries.com
The website will tell you more about the events in the Series, more about the Great Lakes handicapping process, and we'll keep you updated on everything else you need to know.