America's Cup - June 2010
All eyes were on Team Origin at the start of the Louis Vuitton Trophy in La Maddalena, the sparse but ruggedly beautiful island off the northern coast of Sardinia.
Just days earlier, team director Mike 'Moose' Sanderson was fired by Sir Keith Mills. It was a terse press release that announced the New Zealander's departure, and none sounded more surprised than Sanderson himself. Moose was effectively the fall guy for a series of underwhelming performances from a team with high ambitions. Word from behind the scenes was that skipper Ben Ainslie, the talisman for the British challenge, and Sanderson did not see eye to eye, Something - and someone - was going to have to give.
The sacking came off the back of a 5th place at the Audi MedCup regatta in Cascais, where Origin raced their newly launched Juan Kouyoumdjian-designed TP52 for the first time. Fifth may not sound very impressive, but for a first shake-down of a new boat sailed by a team with virtually no TP52 experience on board, the Origin result showed real promise. So this performance did not go very far towards explaining Moose's departure. The reasons clearly ran deeper than that.
Origin's performances at previous Louis Vuitton Trophies in Nice and Auckland had been mediocre, and no doubt with Sanderson's departure the team was looking to make a fresh start. Alas, it wasn't to be, some basic boat handling errors resulting in some clear leads turning into bizarre defeats, and in the case of their final match against Mascalzone Latino, a fluffed spinnaker take-down leading to Aussie trimmer Mike Mottl sustaining a serious injury to his leg after his ankle got caught in a highly-load loop of spinnaker sheet. A 7th place out of 10 teams in La Maddalena will continue to cause frustration to Ainslie and his ambitious team.
The announcement of Grant Simmer as the new managing director of Team Origin, just two weeks after Sanderson's sacking, might help the team find a new way forward. As former managing director and design coordinator of Alinghi, Simmer is one of the most widely respected - and well-liked - players in the America's Cup scene. It will be interesting to see what he can do to build on the foundations set in place by Sanderson.
The race schedule at La Maddalena was ambitious enough even before a collision by French team Aleph into local Italian team Azzurra took the BMW Oracle boats out of the game. This left the inferior pair of Mascalzone Latino boats holding the fort, and gave race officer Peter Reggio the unenviable task of having to pack an already busy schedule into an even tighter time frame.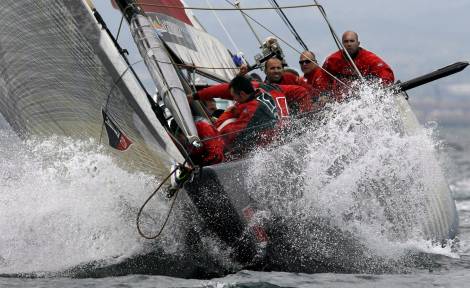 © Mascalzone Latino
It was easy to see why sailors were getting restless; either too little breeze or too much when the notorious Mistral wind came crashing through the Costa Smeralda; boats breaking down; teams sometimes not sailing for up to three or four days at a time. But there were also plenty of reasons to be cheerful - if you were a small team looking to score points off the heavy hitters. The Louis Vuitton Trophy format of holding racing in borrowed boats is proving to be a great leveller, and no more dramatic example of that was to see newly-crowned America's Cup winners BMW Oracle Racing sitting second from bottom in the rankings.
This was no American 'B' team, this was the best of the best, headed up by helmsman and skipper James Spithill and backed up by John Kostecki on tactics and Ian Moore, the Irish navigator recently poached from Team Origin. It's quite likely and understandable that the team arrived in La Maddalena less motivated than the potential America's Cup challengers looking to mark their mark on the public and possible sponsors. However, as it seemed increasingly certain that BMW Oracle would fail to make it past the round robin phase of competition, the American team looked increasingly agitated. The euphoria of winning the Cup back in February appeared to have given way to a feeling of despondency best summed up by that well-worn sporting cliché: 'you're only as good as your last race'.
There is nothing major to worry about here for the Defender. Spithill and Kostecki were very frank and honest about the problem - simply that they haven't raced together on slow monohulls for a long time, and they've never done it together as the team which raced in Sardinia. They were only a click off the pace, but crucial decisions were coming just a second too late. It won't take them long to get their mojo back.
The invincible Emirates Team New Zealand was also proving fallible, yielding matches to lesser teams, or what we thought were lesser teams. The usual pecking order was not in play here, and the chief beneficiaries were the Franco-German alliance, All4One, and Synergy Russian Sailing Team. Although All4One started out as a marriage of convenience between a French and German sailing team both in dire need of funding, All4One really is starting to live up to its name, with French helmsman Sebastien Col and German skipper Jochen Schumann combining very effectively. They won the round robin, and although they fell to Artemis in the semi-final, All4One was one of the stand-out performers.
Skippered by Polish maverick Karol Jablonski, Synergy is a throw-together team of good individual talent and some learning-on-the-job Russians. But this group of 17 sailors from 10 nations have combined with deadly force. In a nailbiting best-of-finals the Russians were running rings around Dean Barker and the Kiwis, going 2-0 up and taking the lead in a potentially decisive third match before incurring a needless penalty. You can't open the door to the Kiwis, because they'll come bursting through. And that's what happened. Once New Zealand got one match back, the momentum turned and they went on to win the next two.
Team boss Grant Dalton was relieved, but also a bit cross. "This regatta has been about the emergence of these teams that are putting us under pressure. We need someone to put a blow touch on us before we start performing. That's not good enough. Someone's going to knock us off our pedestal if we carry on like that. I would have been incredibly hacked off if we hadn't won."