America's Cup - October 2010
The new vision for the America's Cup laid out by Russell Coutts is certainly different. For some, it has proven too different. First casualty after the announcement of wing-masted 72-foot catamarans racing in 2013 (venue yet to be determined) was Team Origin. After spending millions simply navigating his team through the past three directionless years of America's Cup limbo, Sir Keith Mills has pulled the plug on the campaign just as the fog starts to clear.
Although Team Origin's skipper is a multihull rookie, Ben Ainslie sounded excited by the prospect of an America's Cup in fast catamarans. "It is great to finally have an idea of the future for the America's Cup. Challenging in multihulls will be an interesting proposition for all of the teams. The game starts here."
The game stopped a few days later, when Sir Keith decided that enough was enough: "After three years of waiting in the wings to enter a British team in the America's Cup I am bitterly disappointed that we will not be competing. However, the format and timetable decided by the Defender, BMW Oracle, is simply not viable for Team Origin."
While the multihull announcement triggered a swift withdrawal by the Brits - and there are rumours that Italian team Azzurra is headed the same way - other established teams such as Emirates Team New Zealand are biding their time a while longer.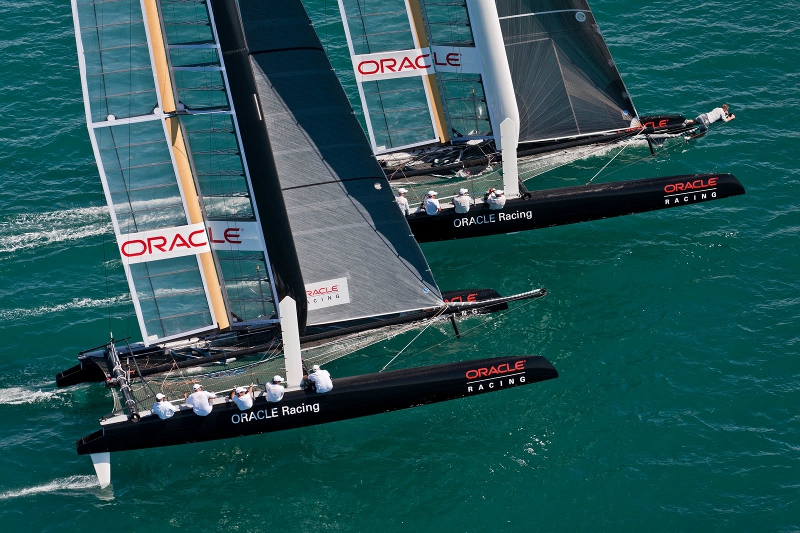 © Gilles Martin-Raget / Oracle Racing
In October, New Zealand skipper Dean Barker submitted himself to a humbling experience at the helm of an Extreme 40 in the final event of the catamaran class's 2010 series, in Almeria, Spain. Even with the experience of multiple world and Olympic medallist Darren Bundock on board, Barker finished a long way last in the fleet. It was still mission accomplished for Barker though, as the Kiwi keelboat expert now has a good understanding of what's required if he's to transfer his unquestioned match racing skills into the world of fast multihull sailing. He said he was flying back to the New Zealand summer with a list of things "a mile long" that he needed to work on.
Then again, Emirates Team New Zealand haven't yet said for definite if they're up for competing in the new format of America's Cup competition. The Kiwis could yet go the same way as Team Origin, although team head Grant Dalton knows it would be much harder to ever kick start the operation from scratch if they were to go into hibernation for a few years.
For any team that is serious about getting into the next America's Cup, high on the list of priorities must be to put their name on the waiting list for an AC45 to be built. This one-design, 45-catamaran is to be a smaller sister of the AC72 that will be used to contest the America's Cup itself.
Coutts says the 45-footer will be a cheaper and logistically simpler way for challengers to feel their way into this brave new world of twin hulls and wing masts. Time is of the essence, as there will be a five-regatta series for the AC45s to contest in 2011, while building of an AC72 will need to commence by mid next year if it's to be launched by 2012.
Meanwhile Ernesto Bertarelli, Mr Alinghi, has been sounding out Mark Turner, head of Offshore Challenges, about running a series of races for the D35 catamarans which Bertarelli races on Lake Geneva. Turner's company already manages the Extreme 40 circuit which, as we've seen with Dean Barker's participation, is already being considered as a vital training ground for America's Cup aspirants. In addition to his involvement as an event organiser, Turner is also talking about mounting his own challenge for the 34th America's Cup.
The tectonic plates in grand prix racing are shifting rapidly, and they're shifting dramatically in favour of multihulls. For the predominantly keelboat-oriented professional sailing community, it's a case of adapt or die.