America's Cup - November 2010
Suddenly multihulls are flavour of the month. With the next America's Cup set to take place in 72-foot catamarans, the International Sailing Federation has now reinstated multihulls into the Olympic line-up for the Rio 2016 Games. And the boat that is now rejected from the Olympic Games? The men's keelboat, the quirky Star class, which for decades has been the proving ground for many America's Cup skippers, but which is now being put out to grass.
It's another sign of just how much is changing at the top of the sport, and just how much professional sailors are having to alter their priorities. Swedish challenger Artemis has been the first to officially throw its hat into the ring as a challenger for the next America's Cup. This is a serious campaign, with a rumoured budget of €100 million. Businessman Torbjorn Tornqvist has signed up Paul Cayard as his front man and Terry Hutchinson as the helmsman.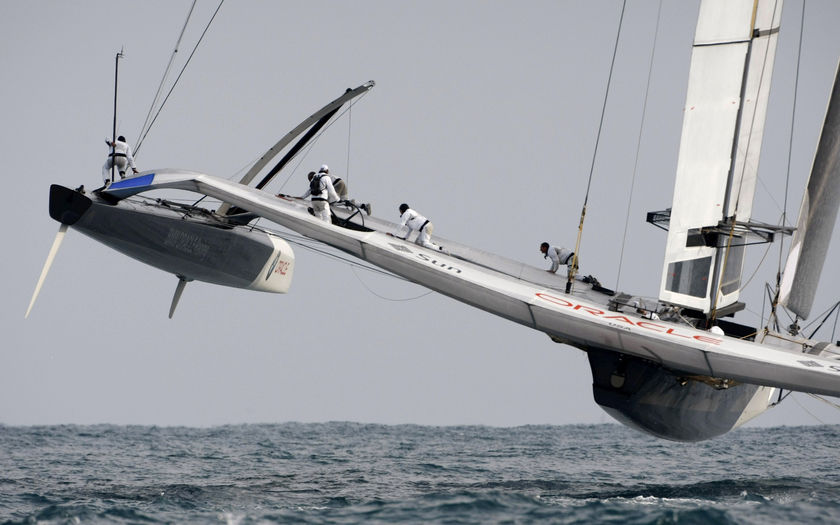 BMW Oracle heads for the finish line. © Dani Cardona
If ever there was a sign that the America's Cup is transitioning from one era into another, it's that Artemis split itself into two during mid-November. One part of the team went to Dubai to represent the Swedish challenge at the final movie Vuitton Cup trophy, while Hutchinson and another part of the team went to Key Biscayne in Florida to be taught how to sail and race Extreme 40 catamarans.
In his early 40s, keelboat specialist Hutchinson is no spring chicken, but he's setting out to prove that you can teach an old dog new tricks, and this old dog wants to learn all he can about modern cats. "Five hours a day on one of these boats is much different and more difficult than anything we are used to," reported an exhausted Hutchinson after a typically gruelling training day. "We are all whipped, and though it is a lot of work it is great fun too."
Artemis have employed two leading lights from the Extreme 40 circuit, British professional sailors Mark Bulkeley and David Carr, to teach Hutchinson and his keelboat veterans how to get the best out of lightweight planing catamarans. It does beg the question why America's Cup teams are looking to retrain their existing personnel as opposed to hiring the established best in that particular discipline, but Paul Cayard explains that they are following the trend set by BMW Oracle and the way they won the last America's Cup.
"What appears was born out from their experience was that fairly quickly on the America's Cup world superseded the multihull world," explains Cayard. "The multihull world largely is an offshore world, and that is from design to construction to the sailing. So I think the answer is that it is easier to take America's Cup sailors and teach them the idiosyncrasies of multihull sailing than to go the other way around."
Meanwhile in Dubai, six teams are bidding farewell to the ACC boats which have been used in America's Cup competition for the past 20 years. This final Louis Vuitton Trophy is most likely to be the last time we see these boats raced in top-flight competition. To borrow from Russell Coutts's now infamous comment about the Flintstones and Facebook generations, these boats do look very Flintstones. But then again, as veteran yachting journalist and America's Cup historian Bob Fisher notes: "As from Monday, November 8th, Her Majesty Queen Elizabeth II has a Facebook page. So, exactly what is the Facebook Generation?"