America's Cup - September 2010
Russell Coutts has upset the applecart with his radical announcement that 72-foot catamarans will be the weapon of choice for the 34th America's Cup.
Not only that, but he's talking about wing-masted catamarans. Sound familiar? It was a wing mast that powered BMW Oracle Racing's trimaran to victory last February in Valencia. Not surprisingly, this announcement has triggered all sorts of questions and criticisms as to where all that much-touted fair play has gone. When they won the 33rd Cup, Coutts and his boss Larry Ellison went out of their way to explain how they were going to make the America's Cup fairer than ever, to level the playing field between the defender and the challengers.
Coutts's critics are crying foul, claiming that the new AC72 rule will give the American defender an unfair technological advantage for the 34th America's Cup, for which we now know the date is sometime in 2013. Not so very far away, especially when you consider what a design departure the new class poses for the predominantly keelboat design world.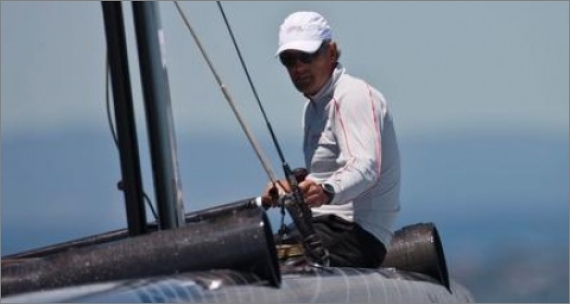 © Gilles Martin-Raget
One can hardly imagine BMW Oracle reached the conclusion that multihulls were a better bet than monohulls after consulting with potential challengers. It is hard to see how the Challenger of Record, Vincenzo Onorato's Mascalzone Latino, has been any more effective at representing the interests of the challengers than the Spanish CNEV, Alinghi's poodle which was put back in its kennel by the New York Supreme Court.
In the weeks leading up to the announcement, both Emirates Team New Zealand and Team Origin were banging the drum for a monohull contest. But as I've written many times before in this column, the America's Cup was never meant to be fair. It's the unfairest, most one-sided competition in sport, and that's what's gives the Cup its unique appeal.
So - as I also wrote earlier this year - the question is why Coutts and Ellison felt compelled to come out so strongly in talking about level playing fields and parity between defender and challenger when no one was really asking them to commit to such things in the first place. No one who understands the Cup expects the defender to behave like the white-hatted sheriff. In fact we prefer it when he puts on the black hat so we can feel good about taking pot shots at him.
Since those early weeks after the victory in Valencia, Coutts has moved away from focusing the decision process for the next Cup on democratic discussion, and more on what would best serve the media, particularly TV, and on ways of broadening the appeal of the event for a wider audience, particularly a younger one. As Coutts put it: "This will be a competition for the Facebook generation, not the Flintstone generation."
In referring to the Flintstone generation, Coutts must also be referring to the yachting establishment, the yacht clubs representing the challenging syndicates. Because the vast majority of yacht clubs around the world, particularly the older and more exclusive ones, are focused on keelboat racing, there was no way that multihulls would ever have been selected under a truly democratic process involving the challengers. It would have been like asking turkeys to vote for Christmas.
Instead, Coutts seems far more interested in keeping the media happy. If you can attract the television cameras, then you attract corporate sponsorship, and it's corporate sponsorship that makes it financially viable for challengers to compete. BMW Oracle organised a media trial in Valencia during the summer, using experienced TV cameramen and producers to try all sorts of video and audio experiments on board RC44 keelboats and Extreme 40 catamarans. The audio aspect is particularly interesting.
Audio broadcast of the sailors' communication has been attempted before in America's Cup competition, although more often than not the sailors have tended to switch off the on-board mics. Until penalties are introduced for sailors interfering with broadcast equipment, we can't rely on the competitors to leave the audio running. But when you do get to hear the onboard chatter, it's fascinating. The chit-chat from the back of the boats during the Louis Vuitton Trophy in La Maddalena last May was illuminating, entertaining, and sometimes turned the air blue, although no words were used that wouldn't already be well known to the Facebook generation.
It's encouraging to hear Coutts give such high priority to audio as well as the moving image: "It will take a fair bit for the sailors to get used to all the audio being available for broadcast," he said. "That's going to sound a bit strange from me because I was one of the worst offenders at turning the microphone off but it's probably the way it's got to go," Coutts said.
How much those media trials in Valencia really contributed to the final decision to go for multihulls, we can't be sure. One suspects that Coutts had already made his mind up. There have been a number of tell-tale signs over the past few months to suggest the American team was going to plump for the cats anyway.
For example James Spithill, the skipper of BMW Oracle's sailing team had joined forces with the team's coach, Tornado Olympic medallist Glenn Ashby, to compete in a couple of high-profile multihull events. They raced together in the Formula 18 World Championships in France, albeit only finishing 18th in the 159-boat fleet. Even more significantly they raced together in the Little America's Cup. This is the match racing event that brings together 25-foot, extremely high-tech, wing-masted catamarans together once every few years, and which this year attracted five high-class entries.
Taking place in Newport, Rhode Island, ironically the home of the traditional keelboat America's Cup, many luminaries from the design world came to learn about the latest thinking in wing mast technology. These included Juan Kouyoumdjian (the Argentinean designer recently fired by Team Origin but who won't be out of work for long), Kevin Shoebridge of Team New Zealand and Tom Schnackenberg (recently of Alinghi and all-round America's Cup legend). Whilst it was widely agreed that Spithill and Ashby outmanoeuvred everybody else with great boat handling, the superior technology and boat speed of Canaan, sailed by Canadians Fred Eaton and Magnus Clarke, proved too powerful in the final, even for the world-class skills of the B'Oracle boys.
As for Coutts, it's not quite clear when his love affair with multihulls began, but what is clear is that even if this four-times America's Cup winner was the acknowledged master of match racing in heavy keelboats, any love or nostalgia that he may have had for those boats is now long gone. When a journalist friend of mine was trying to get a positive quote out of Coutts during the 1851 Cup in Cowes in August, Coutts just couldn't bring himself to say a good word about watching two big, slow 25-ton AC boats slug it out as they plodded up and down the Solent at 10 knots.
So if Coutts, the man who has built his whole career on racing heavy keelboats, thinks multihulls might have more to offer the America's Cup, who are we to argue? Plenty of armchair critics are predicting the imminent demise of the Cup following these latest radical announcements, but the fact is, no one knows yet.
Personally, I don't think the choice of boat - whether it be a monohull, catamaran or trimaran - will have much bearing on the commercial success of future America's Cups. The personalities are far more important, the human battle far more compelling than the technology. You could argue that the quality of the on-board audio mics is more important than the choice of boat.
That said, the AC72 should be a head-turner of a machine. These catamarans are predicted to accelerate up to 30 knots, and even more crucially, should be able to span a much wider range of wind conditions than ever the old AC keelboats could. TV schedulers lose patience when race officers say it's too windy or not windy enough. Not even the Flintstones generation, let alone the ADHD attention span of the Facebook generation, has the patience for the kind of delays we've experienced in recent America's Cups.
Pete Melvin, a catamaran world champion in his own right and renowned designer of many innovative multihulls including the late adventurer Steve Fossett's PlayStation, commented on the tough design brief handed to him by the defender. "It's been challenging to have the cat fully powered-up and flying a hull in light winds, yet also able to sail in 30 knots. We put a lot of time and effort into sizing the wingsail and the platform dimensions in order to sail in that full range."
Melvin is the chairman of a group of experts who together have drawn up the AC72 Class Rule. The new boat aims to fly a hull in just 5-6 knots of true wind, thanks to a powerful wing rig that will measure a maximum 40 metres tall with a maximum chord length between 10 and 11 metres. Target boat speed in winds below 10 knots is at 1.2 times the true wind speed upwind, and 1.6 times true windspeed downwind.
There's no doubt it will be a beast of a boat, and with crew numbers reduced from the 17 that have sailed the old keelboats down to just 11 on the AC72, Coutts anticipates that these new catamarans racing on short courses will require younger, more athletic sailors than have dominated America's Cup competition in recent years. Not only has Coutts put himself out to grass, but many of his 40- and 50-something mates from Team New Zealand.
From top to bottom, Coutts's vision for the America's Cup is revolutionary. As to whether it proves to be a popular revolution, we will have to wait and see.