A chance for the fast boats to shine at this Saturday's pursuit race classic?
9 January 2015
After a number of light wind events in the GJW Direct Sailjuice Winter Series this season, a big-breeze forecast for this Saturday's Bloody Mary pursuit race could play into the hands of the fast boats.
Last year's winners, Graham Camm and Zoe Ballantyne, are back to defend their title in the National 12. Stand-out performer in the Series thus far has been Nick Craig, who this weekend is sailing his Merlin Rocket with Oli Wells. But with gusts predicted at in excess of 30 knots, could it be too much even for Craig's calibre?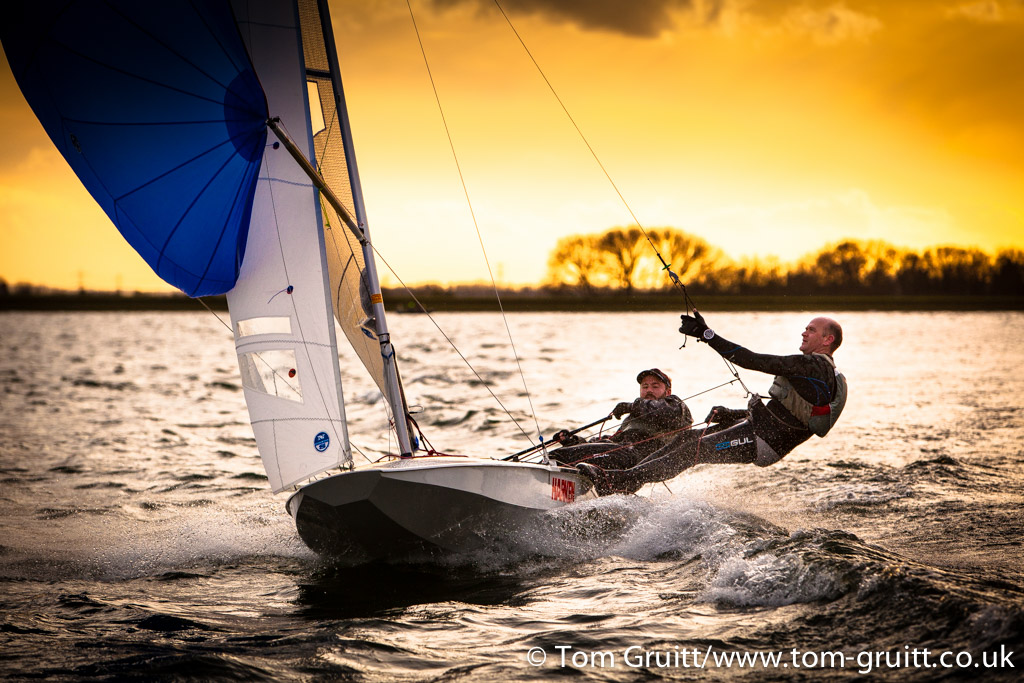 It looks like ideal 29er or 420 weather, and the youth teams will be raring to show what they're made of. Then again, maybe the reigning 505 World Champion Mike Holt, visiting from California, could turn in a winning performance with crew Tim Needham, who has won a windy Bloody Mary in 2010 crewing for Andy Smith.
Reigning Fireball World Champions Christian Birrell and Sam Brearey must start among the favourites, although first they'll have to dispatch other hot Fireball teams including former World Champs, DJ Edwards and Vyv Townend.
The International Moths have had a good run of the Bloody Mary in recent years, but for those not competing at the Worlds downunder in Melbourne, it's going to be hard going in the blustery breeze, particularly on their new handicap of 485. While the Toppers will set off at midday for a two-and-half-hour race, the Moths will be starting a full 95 minutes later, giving them less than an hour to make up the distance on the rest of the fleet before the finish at 2.30pm.
Despite the high-wind forecast, 194 boats beat the online entry deadline. It's still possible to enter on the day, up to the limit of 350 maximum entries. Race director Andrew Craig commented: "It's a strong wind forecast, but provided the race officer can get on to his start boat, the Bloody Mary will most likely go ahead. Of course, competitors still have to use their own judgement as to whether it is sensible for them to take part, taking into account their own competence and the type of boat they're sailing."
Even seasoned campaigner in the GJW Direct Sailjuice Winter Series, Ben Schooling, is wondering if he will manage the challenge in his Musto Skiff. "I guess I'll have to man up," said the normally hardy Scot, who would do well to re-read his own tips on survival sailing:
http://www.sailjuice.com/articles/survival-sailing-Ben-Schooling
It's also well worth reading these excellent Top Tips on how to race the Bloody Mary:
http://www.thebloodymary.org.uk/top-tips
Even if you don't compete, a visit to Queen Mary Sailing Club to spectate the Bloody Mary is well worth it. Professional sailing journalist Malcolm McKeag will be proving live commentary throughout the race.
For results in the GJW Direct Sailjuice Winter Series after four events: http://events.sailracer.org/eventsites/content.asp?id=39820&eventid=195890
PRIZES FOR COMPETITORS, CLASSES & SPECTATORS
Thanks to generous support from Series sponsors, we have some great prizes for competitors, and also for spectators and photographers. More details to follow in the coming weeks...
In addition to title sponsor GJW Direct Insurance (www.gjwdirect.co.uk/dinghy), the UK's largest direct boat insurer, our silver-level sponsors are:
Gul - Experts in Performance Apparel www.gul.com
Trident - The Dinghy & Yacht Shop on the Web www.tridentuk.com
Overboard - The Leaders in Waterproof Bags & Cases www.over-board.co.uk
Lennon Sails - A new brand with a great heritage www.lennonsails.com
ENTER NOW!
Enter the Series here www.SailJuiceSeries.com
The website will tell you more about the events in the Series, more about the Great Lakes handicapping process, and we'll keep you updated on everything else you need to know.