After a soft start to the GJW Direct SailJuice Winter Series, this weekend's John Merricks Tiger Trophy looks set to deliver another high-wind challenge
28 January 2015
The big breeze specialists are steeling themselves for a big weekend as they hitch on their boats to compete at the John Merricks Tiger Trophy on 31 January & 1 February. Now in its 21st year, the handicap event at Rutland Water has always attracted the great and the good of UK dinghy racing.
The seventh event of this season's GJW Direct Sailjuice Winter Series (also supported by Gul, Trident, Overboard and Lennon Sails) once again brings many national and world champions together on one of Britain's finest stretches of inland water. Could this be Steve and Sarah Cockerill's chance to shine in their 4000? Or will the Fireballs have it their way again, as they have in other recent events in the Series? Former national champion Kevin Hope and Russell Thorne will be up against some quality opposition in the Fireballs, including the successful duo of Dave Hall and Paul Constable, who have raced together for the best part of 30 years and are still going strong.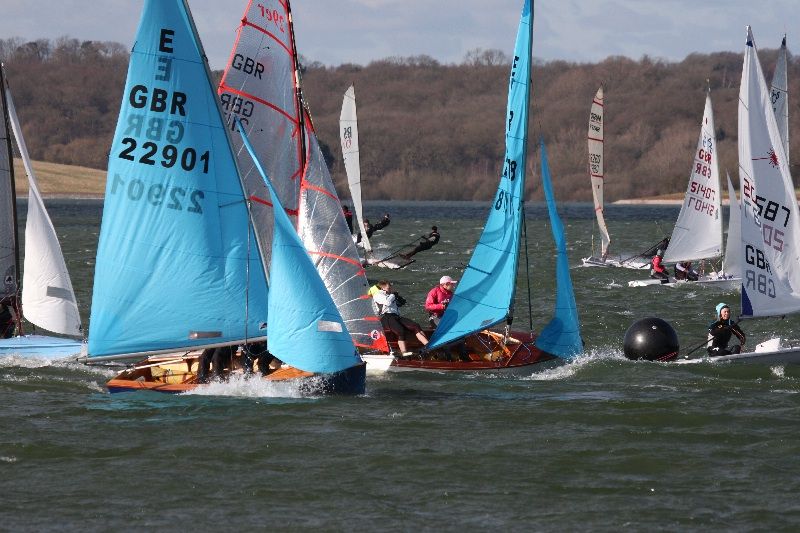 Multiple national champion Ben McGrane is back out in his Merlin Rocket with Olivier Vidal to see if he can take on the rest of the Merlin pack, not least current Series leader Nick Craig, crewed this time by Tom Pygall. McGrane is recently back from Australia where he finished runner-up in the International 14 World Championships. Sam Pascoe, the new 14 World Champion, is also out at Rutland this weekend crewing Nathan Batchelor's 505, who will be keen to test their pace against other new Five-Oh team, Tom Gillard and Richard Anderton.
Among the top contenders in the hiking boats is last year's winner of the GJW Direct Sailjuice Winter Series, Michael Sims in his Solo. There is always a strong youth contingent at the Tiger Trophy, so one of the 420s or 29ers could also fare well in this weekend's predicted breeze.
Perennial PRO, Olympic silver medallist Dave Wilkins will be running the racing, with three handicap races on the Saturday and the pursuit race finale on Sunday.
Primary sponsors, Everards Brewery will once again provide ample evening refreshment, which perfectly complements the traditional black tie, bangers 'n mash extravaganza that has become the mainstay social event of the darkest month of the year for hardy dinghy sailors. The event also raises funds for the John Merricks Sailing Trust (JMST), the charity set up in John's memory.
One of the first recipients of an award from the JMST was Nick Bubb, who will be the evening speaker for the Tiger Dinner. Nick, who is now a trustee of the JMST, received support for his fledgling Mini Transat campaign in 2003 before progressing to compete in the Volvo Ocean Race, Route du Rhum, Transat Jacques Vabre and a whole host of other ocean classics including the non-stop around the world, Oryx Quest on a maxi-cat. In early 2013, Nick skippered the Shackleton Epic Expedition, crossing the Southern Ocean in a 23-foot wooden boat using only vintage equipment. Nick now spends his time promoting the wildlife charity Fauna & Flora International.
Online entry for the Tiger Trophy is open until midnight Thursday 29 January, and you can book your ticket for the dinner at registration.
ENTER HERE: http://enter.sailracer.org/events/enter-series.asp?eventid=195890
For results in the GJW Direct Sailjuice Winter Series after six events: http://events.sailracer.org/eventsites/content.asp?id=39820&eventid=195890


PRIZES FOR COMPETITORS, CLASSES & SPECTATORS
Thanks to generous support from Series sponsors, we have some great prizes for competitors, and also for spectators and photographers. More details to follow in the coming weeks...
In addition to title sponsor GJW Direct Insurance ( www.gjwdirect.co.uk/dinghy ), the UK's largest direct boat insurer, our silver-level sponsors are:
Gul - Experts in Performance Apparel www.gul.com
Lennon Sails - A new brand with a great heritage www.lennonsails.com
Overboard - The Leaders in Waterproof Bags & Cases www.over-board.co.uk
Trident - The Dinghy & Yacht Shop on the Web www.tridentuk.com
ENTER NOW!
Enter the Series here www.SailJuiceSeries.com
The website will tell you more about the events in the Series, more about the Great Lakes handicapping process, and we'll keep you updated on everything else you need to know.