MP3: James Spithill on how to get yourself out of a fine mess
James Spithill is best known as the winning skipper of the 33rd and 34th America's Cups, but he's a pretty mean fleet racer too, for example having won the Melges 24 Worlds. In this interview the Australian professional looks at how to fight you way through the pack, and why it's the cool cats that win out in the end...

Listen to the interview here...




You can get a flavour of what's on the audio by reading a transcript of the conversation below the photo...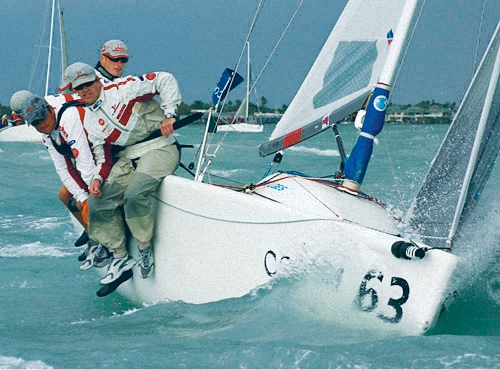 James Spithill at the helm of his worlds-winning Melges 24


SailJuice: James, let's say you find yourself behind in a big fleet, you've just rounded a busy leeward mark and you've got 50 boats ahead of you, how do you make sense of the mess?

James Spithill: Yeah, the wind is screwed up, a lot of gas. I think the key thing is - a lot of guys try and pack up the boat too quickly. As long as the spinnaker's not going to blow out the boat, you need to get everyone on the rail and the helmsman steering well. All it will take is a another guy off the rail on the other boat, or a helmsman not steering properly, and that can turn into something big.

SailJuice: So get back into upwind mode as soon as possible after the mark.

James Spithill: Exactly, there's plenty of time to clean up later. More important to have everyone fully hiked and just full focus from the trimmers and helmsman. That's going to set you up later on.

SailJuice: You can see a lane open up, but then someone else might tack into that lane. So how much are you trying to second-guess what your rivals are doing?

James Spithill: It's all a lot of luck there. It's tough. You always give them the benefit that they're going to do the right thing and usually you're on the lifted tack so if they're on the other tack they're most likely going to get you. At the end of the day some guys can't help themselves and love to tack on you. But there's other guys that are smarter, they can still take the shift without ruining your lane. They take the shift but don't tack right on you because - next race - if the roles are reversed, what's going to happen?

SailJuice: So you give a bit to get some back later then...

James Spithill: Yeah, I think so. Same if someone is just crossing you on port and you've got a little piece of them. For me you just let them go. If you're happy to go straight, then let them go because it's amazing how things come back on you later. The guys who do it are usually not the guys winning the regattas.....

There's loads more great advice here from James, who also touches on these subjects towards the end of the interview:


Don't get distracted by other people yelling.

It's the guys that are calm and who keep it together who come out ahead.
LISTEN TO THE WHOLE AUDIO TO GET THE BENEFIT OF JAMES SPITHILL'S ADVICE....